On December 20, Tri Purnajaya, Deputy Chief of Mission of the Indonesian Embassy in Japan, led a delegation on a visit to Tohoku University. During the visit, he called in on Executive Vice President Toshiya Ueki.
Executive Vice President Ueki welcomed Tri Purnajaya and his delegation, highlighting that many international students and researchers from Indonesia attend Tohoku University. Looking ahead, he expects Tohoku University and Indonesian universities to deepen cooperation.
Tri Purnajaya spoke of his desire to maintain and deepen cooperative relations between Japan and Indonesia. He also expressed his hopes that the Indonesian Ambassador to Japan and researchers from universities in Indonesia visit Tohoku University to explore areas where they can promote further collaboration.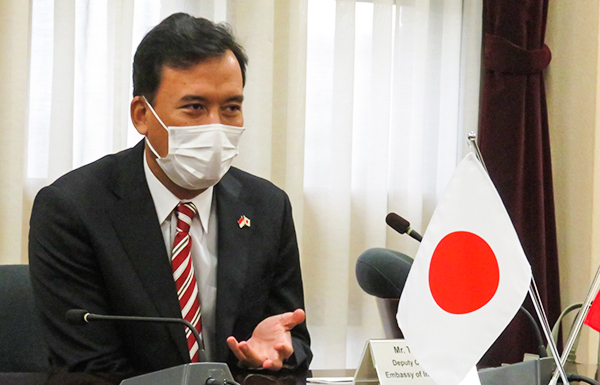 News in Japanese
Contact:
Tohoku University Global Engagement Division
Tel: +81-22-217-4844
Email: kokusai-r

grp.tohoku.ac.jp