On November 7, Syiah Kuala University Rector, Prof. Dr. Ir. Samsul Rizal, visited Tohoku University to attend the Aceh International Workshop and Expo on Sustainable Tsunami Disaster Recovery (AIWEST) @SENDAI 2019. In addition to signing department-level academic exchange agreements with the International Research Institute of Disaster Science(IRIDeS)and the Graduate School of Engineering, Rector Rizal and his delegation also met with Executive Vice President Toshiya Ueki.
Established in 1960, Syiah Kuala University is the largest national university in Aceh Province with 10 faculties. The university is based in Banda Aceh, which was devastated by the 2004 Indian Ocean tsunami. Since then, the university has been working on the reconstruction of the tsunami-affected areas. In 2014, Tohoku University's IRIDeS and Syiah Kuala University's Faculty of Mathematical and Natural Sciences concluded a department-level academic exchange agreement. In addition to conducting joint research on the 2004 Indian Ocean tsunami, the two parties are also studying the tsunami that occurred off the island of Sulawesi in September 2018 and in the Sunda Strait in December of the same year.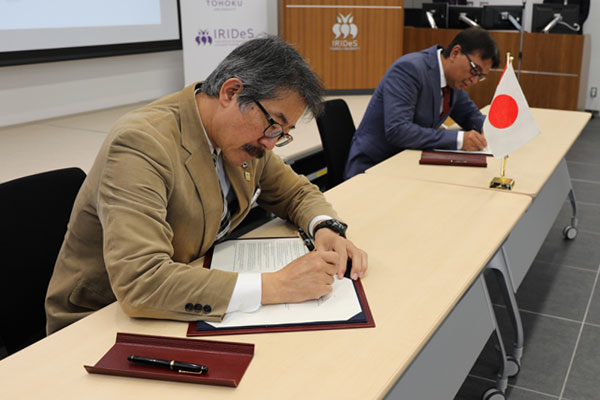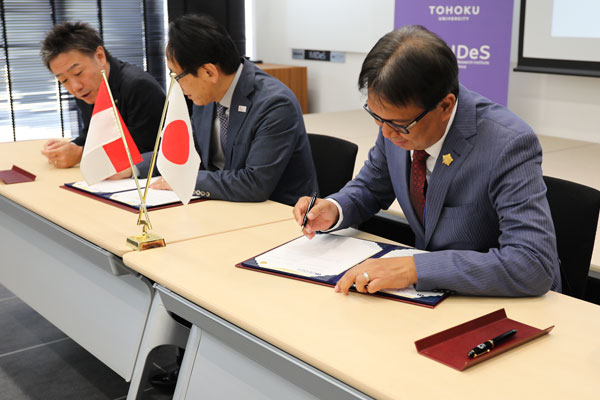 The AIWEST, whose theme is the recovery of tsunami-affected areas, has been held since 2005 by Syiah Kuala University's Tsunami and Disaster Mitigation Research Center (TDMRC). Since 2016, the International Research Institute of Disaster Science has co-sponsored the workshop. Over 100 participants, mainly from the two universities, participated in this year's event. Furthermore, the two sides concluded a new agreement between Syiah Kuala University and the Graduate School of Engineering. They also renewed the university's existing agreement with the International Research Institute of Disaster Science of Tohoku University, which was due to expire this year.
In his address at the workshop, EVP Ueki iterated that both Syiah Kuala University and Tohoku University are located in regions that were severely damaged by tsunamis, adding that he expected both universities to continue to cooperate in the field of tsunami disaster research. He said that he wishes to see the two parties share knowledge and resources in engineering, following the conclusion of the new agreement, and the further development of exchanges in education and research.
In their meeting which followed, Rector Rizal and EVP Ueki enjoyed exchanging information on higher education at their respective universities.

News in Japanese
Contact:
Tohoku University Global Engagement Division
Tel: +81 22 217-5578
Email: kokusai-r

grp.tohoku.ac.jp