Tohoku University hosted a delegation of 22 presidents, vice-presidents and other executives from leading German universities on March 21.
The visit was sponsored by the German Academic Exchange Service (DAAD), who also sent representatives. The group's aim was to examine how the challenges of administration and finance are met at Japanese universities, as well as to exchange opinions on collaboration with research institutions across the country.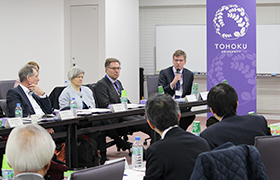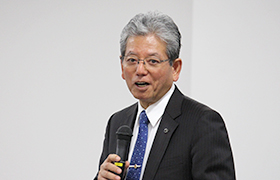 President Susumu Satomi welcomed the party, and reiterated his appreciation for their generosity following the Great East Japan Earthquake of March 2011. In addition to monetary donations, German universities offered support in a number of ways, such as warmly welcoming visiting researchers and students from Tohoku University.
On behalf of the delegation, Deputy Secretary General of DAAD, Ulrich Grothus, expressed his condolences to everyone who was affected by the tragedy. He noted that the impact of the earthquake caused a significant change in German energy policies, and made him think about what universities could do in such situations. Grothus added that Tohoku University's initiatives in response to the tremendous damage suffered are of great interest to German universities.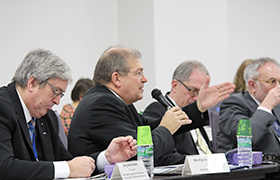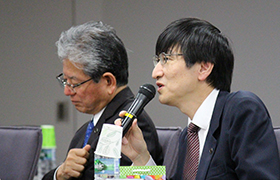 Tohoku University's relationship with Germany began in the early 20th century. According to Executive Vice President Toshiya Ueki, prominent professors from Tohoku University studied in Germany at the turn of last century and held important faculty meetings in Berlin and Göttingen. Albert Einstein visited Tohoku University in 1922.
EVP Ueki also presented an outline of more recent developments at the university, such as administration reform efforts and being selected as a Designated National University by the Japanese government. He explained that a Core Research Cluster has been established to further promote areas that the university excels in, such as materials science, spintronics, next-generation medicine and disaster science.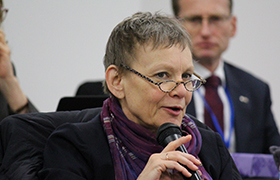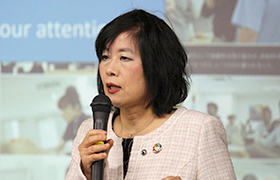 In the discussion session that followed, the German representatives were interested in hearing about the administrative and academic process by which research centers are established at Tohoku University, particularly in regard to their interdisciplinary nature. They wanted to know about Tohoku University's relationship with industry, and how the university recruits and develops its researchers. They were also eager to learn about the collaboration activities between Tohoku University and universities in other countries.
Professor Motoko Kotani, director of the Advanced Institute for Materials Research (AIMR), introduced the work being done there, and five young researchers presented their research findings. The delegation then visited the laboratory of Professor Takashi Takahashi, where they observed an ultrahigh-resolution photoemission spectrometer.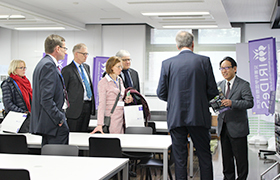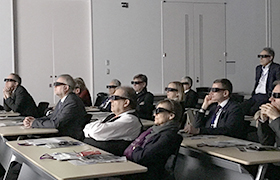 At Aobayama Campus' new extension, the visitors learned about the work of the International Research Institute of Disaster Science from its director, Professor Fumihiko Imamura. He showed them the results of analyses carried out on the Great East Japan Earthquake and the resulting tsunami, explained how the results are used in promoting education about disaster prevention, and provided some background information on other research the institute is engaged in.
This visit allowed Tohoku University to demonstrate its pioneering research, education and management initiatives. Both sides said they looked forward to further collaboration and more academic exchanges in the future.

News in Japanese
Contact:
Tohoku University International Exchange Division
Tel: +81 22 217-4844
Email: kokusai-r@grp.tohoku.ac.jp