To commemorate 115 years since Tohoku University's founding, Tohoku University Indonesia Alumni Association and current Indonesian Students held an online seminar entitled "Let's Study at Tohoku University" on May 28, 2022. The seminar provided information on study abroad programs, scholarships, and careers paths to 222 Indonesian high school students and others.
President of the Alumni Association and professor at the University of Indonesia, Sri Harjanto delivered the opening remarks along with Halu Oleo University President Muhammad Zamrun Firihu. A video message from Tohoku University President Hideo Ohno followed where he introduced the university's founding philosophy and its latest initiatives on global issues, and welcomed the students. He stressed Tohoku University's dedication to preparing the stage for them to realize their dreams.
Afterwards, Yumiko Watanabe, a specially appointed professor at Tohoku University's Global Learning Center, introduced the international student exchange program, whilst the Consulate-General of Japan in Indonesia explained the government scholarships program. Current students and alumni of Tohoku University also gave detailed presentations about scholarship programs and the research environment at the university based on their own experiences. Agni Lili Ariyanti, a student at the Graduate School of Environmental Studies, emphasized self-belief when applying for a scholarship, while Ahmad Ridwan Tresna Nugraha, an alumnus of the Graduate School of Science who works as a researcher in Indonesia, said his academic experience at Tohoku University provided him with unique skills that other researchers in Indonesia do not have.
Participants in the seminar asked how to obtain scholarship information and about life in Japan. At the end of the session, a special raffle was held where participants had the chance to win Tohoku University goods, such as stationery sets and bags.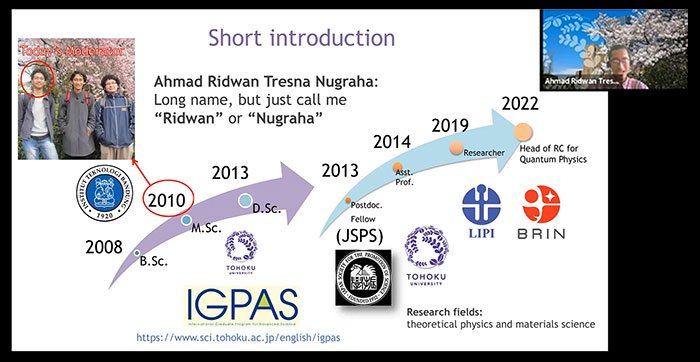 News in Japanese
Contact:
General Affairs and Planning Department
Global Engagement Division
Email: kokusai-r

grp.tohoku.ac.jp