On December 4, the Ambassador Extraordinary & Plenipotentiary of the United Arab Emirates (UAE) to Japan, H.E. Khaled Alameri, visited Tohoku University to meet with President Susumu Satomi. He was accompanied by two members of staff from the embassy's academic section, Mr. Suood Alteneiji and Ms. Sumiyo Shinagawa.
President Satomi welcomed the ambassador, who spoke of a shift in policy in the UAE away from processing natural resources and towards promoting the development of talented individuals. The ambassador sees leading education and research institutes such as Tohoku University as ideal partners for the UAE in the shared goal of developing graduates who can contribute to the modern globalized society. To that end, he expressed his desire for further cooperation and for opportunities for students from the UAE to study at Tohoku University.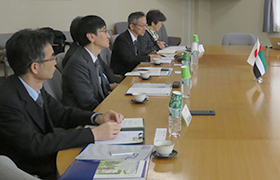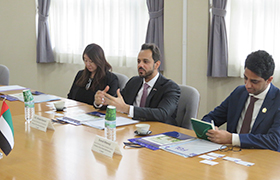 Tohoku University Executive Vice President Toshiya Ueki and Associate Executive Vice President Masahiro Yamaguchi explained the situation regarding academic collaboration between Tohoku University and the UAE, and the efforts to support international students.
Professor Yumiko Watanabe of the Institute for Excellence in Higher Education's Global Learning Center also introduced the Future Global Leadership Program, which offers courses taught entirely in English.

News in Japanese
Contact:
Tohoku University International Exchange Division
Tel: +81 22 217-4844
Email: kokusai-r@grp.tohoku.ac.jp