The Tohoku University Alumni Association in Vietnam was established on February 23 in Hanoi, Vietnam, and commemorative ceremonies and seminars were held to mark the event.
Nearly 100 alumni and special guests attended the ceremonies - held in the morning at Foreign Trade University, and in the afternoon at Thuyloi University. Tohoku Unversity was represented by a 14-member delegation, led by President Hideo Ohno and Executive Vice President Toshiya Ueki.
Ceremony at Foreign Trade University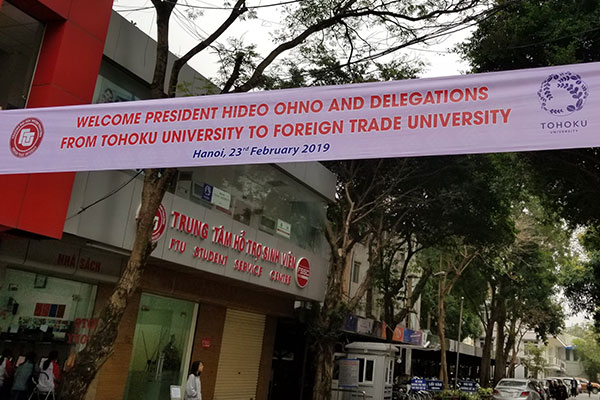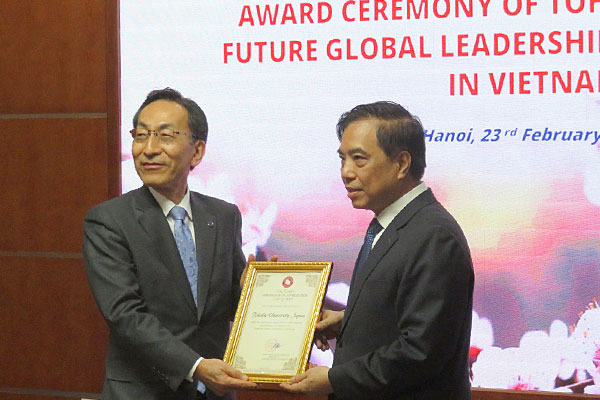 The day began with a ceremony at Foreign Trade University, Vietnam's leading university for the humanities and social sciences, with opening speeches given by President Bui Anh Tuan of Foreign Trade University and by President Ohno.
President Ohno described the new alumni association as a reflection of the strong ties Tohoku University has with its partners in Vietnam, and the encouraging opportunities that lie ahead. The two presidents then renewed the academic exchange agreement which exists between the universities.
Following the signing ceremony, the winners of the FGL Challenge in Vietnam were presented with their award.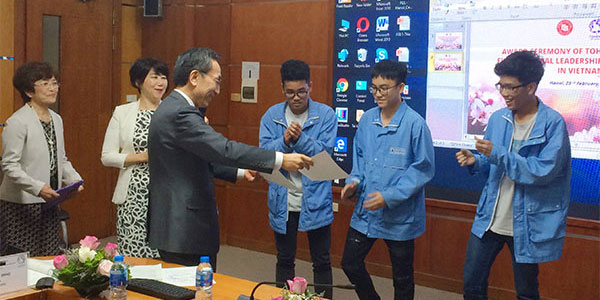 TU Alumni Seminar on Humanities and Social Sciences
The first Tohoku University Alumni Seminar held at Foreign Trade University focused on the humanities and social sciences. Professor Akira Hibiki, Vice Dean of the Graduate School of Economics and Management, presented his latest research on global warming and its effects in the agricultural sector, and Associate Professor Midori Wakabayashi presented a report entitled "Commitment Device in Marriage and Undersaving."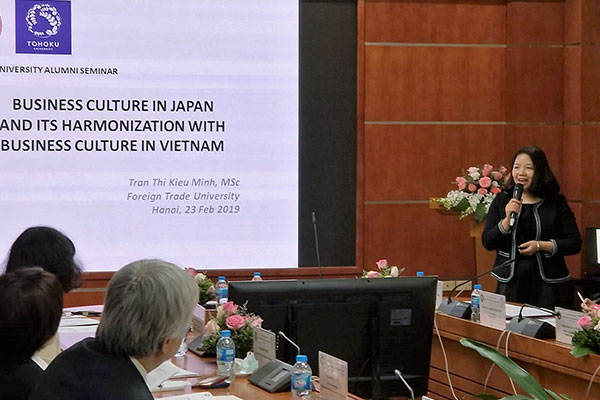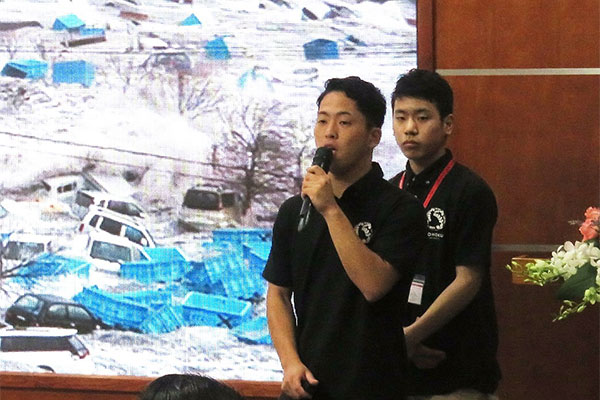 Three alumni from the Graduate School of Economics - Tran Thi Kieu Minh from Foreign Trade University, Nguyen Thi Phuong Dung from Vietnam National University and Le Huong Linh from Vietnam's Central Institute for Economic Management - also presented their research.
Ceremony at Thuyloi University
The commemorative events continued at Thuyloi University in the afternoon where President Linh Minh Thu hosted the delegation from Tohoku University.
Yusuke Hayashi, First Secretary at the Embassy of Japan, gave a congratulatory speech. He was followed by Vu Mao, the former Chairman of the National Assembly's Commission for Foreign Affairs and Honorary Chairman of Thuyloi University Alumni, who echoed the hope for more exchanges between Japan and Vietnam. He then broke into song, much to the delight of the audience.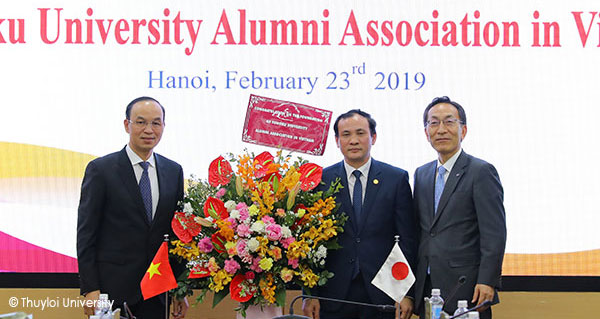 Vice President of Thuyloi University Nguyen Trung Viet, who is the inaugural chairman of the Tohoku University Alumni Association in Vietnam, pointed out that "many exchange students have not only contributed to their local communities but have also made an impact at the national level after returning to Vietnam. I want to see the alumni association's members help each other to further contribute to the development of Tohoku University and Vietnam."
Tohoku University's Professor Hirokazu Moriya then presented VP Viet with a Certificate of Recognition from the Graduate School of Engineering to honour his past achievements. Similarly, Professor Hitoshi Tanaka was awarded the Quang Nam Provincial People's Committee Certificate of Merit by the Vietnamese Ministry of Agriculture and Rural Development.
TU Alumni Seminar on Engineering and Natural Sciences
After the ceremony at Thuyloi University, a seminar on engineering and natural sciences was held. Professor Hitoshi Tanaka discussed the results and experiences gained from the many joint research activities conducted in Vietnam, and his hope for further cooperation.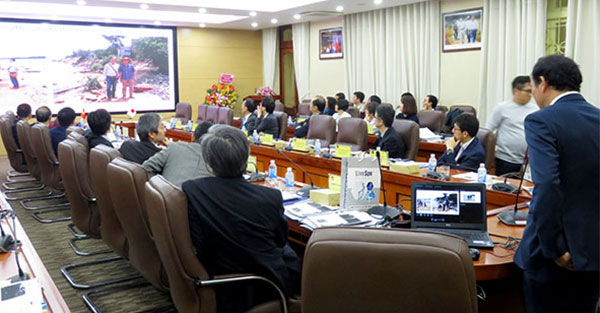 In addition to Vice President Viet, three Vietnamese representatives also gave presentations on the research they conducted while at Tohoku University. They were: Dr. Hoa Anh Nguyen, who is currently CEO of ANBAIO R&C JSC; Associate Professor Phan Xuan Hieu, who is Vice Dean of the Faculty of Information Technology at the VNU University of Engineering and Technology; and Associate Professor Truong Viet Anh of Hanoi University of Science and Technology.
After the seminar, the approximately 60 participants enjoyed a social gathering.
The Tohoku University Alumni Association in Vietnam is the seventh overseas alumni association to be established by students returning home from Tohoku University. It follows chapters in Korea, China, Taiwan, Indonesia, Thailand and Mongolia. There are currently about 110 Vietnamese alumni active in the association, which will serve as a base for Tohoku University in Southeast Asia.

Article in Japanese
Contact:
Tohoku University International Exchange Division
Tel: +81 22 217-4844
Email: kokusai-r

grp.tohoku.ac.jp
Tohoku University Alumni Association in Vietnam
Email: nguyentrungviet

tlu.edu.vn