Ten students have been awarded the Tohoku University Global Leader certificate for Winter 2021. At the ceremony - held in-person at Katahira campus on February 5 - President Hideo Ohno congratulated the students on their commitment to internationalization, even during a pandemic that has severely restricted interaction and mobility.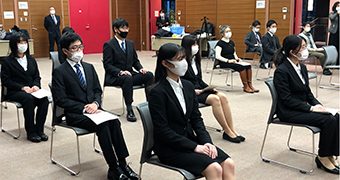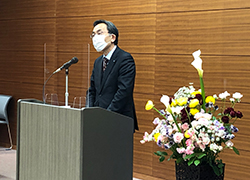 "From the experience of this COVID-19 pandemic, a deeper and more expansive world is emerging," he said. "The keyword "global" will become increasingly important as the world connects online, offering more opportunities for collaboration. With a Tohoku University education, coupled with sensitivity and imagination, all of you have the power to be leaders, and to build a prosperous future for your generation."
The president also urged the students to participate in peer support such as the Tohoku University Global Leader Community Ambassador (TGLCA) programme, so that they can help encourage other young students to also develop a global mindset and multicultural understanding.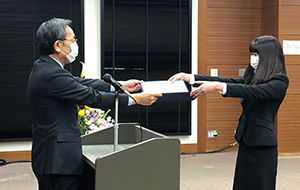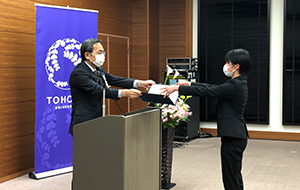 The Tohoku University Global Leader (TGL) programme was started in 2013 as part of the university's efforts to internationalise its curriculum and promote co-learning among students of different cultures. Local students receive the Global Leader certification after collecting points from classes and activities that encourage a global mindset. These include participating in study abroad or international programmes, doing volunteer work and passing foreign language proficiency tests such as TOEFL.
The programme also includes a Global Seminar which guides the students on how to motivate themselves to learn about things going on around the world through reading, active listening and discussions.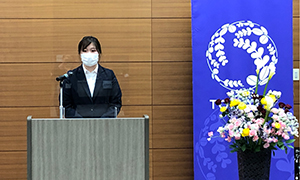 "I feel that the TGL program has been a major part of my university life and has had the greatest impact on my behavior and thinking," said 4th year engineering student Saki Otomo, who gave a speech on behalf of the award recipients.
She described her personal growth through participating in study abroad programmes and activities with IPLANET, an international exchange social club at Tohoku University "The TGL program motivated me to learn about things happening around the world and develop a global mindset. Through this program, I became a person who would not hesitate to take action because now I know how much better it is to have different ideas and opinions."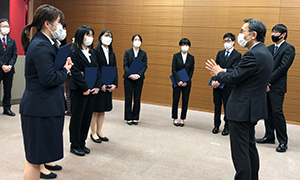 Unlike pre-pandemic ceremonies, there was no mingling over drinks after the ceremony this time, but before leaving, President Ohno posed for photos with the students and had a brief informal discussion with them about their plans for the future.
This semester's group brings the total number of students who have been awarded the Global Leader certificate to 128.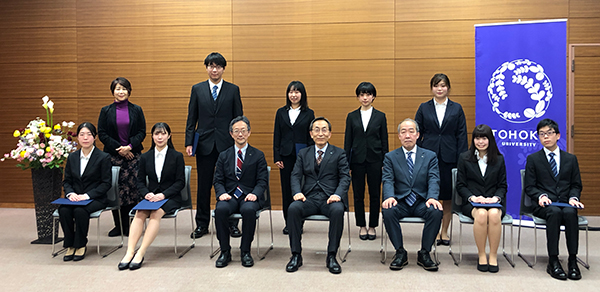 News in Japanese
Contact:
Student Exchange Division
Tel: +81-22-795-7820
Email: sab_query

grp.tohoku.ac.jp