Researchers at Tohoku University have designed an anti-reflective, anti-fogging face shield for hospitals that can be used to protect frontline workers against the coronavirus. The shield is light - weighing only 30 grams - and includes an elastic band for long-use comfort.
The DATE Shield project was started in late April in response to a shortage of face protection for medical staff at the height of the COVID-19 outbreak. It is a collaboration between the Graduate School of Engineering, the Graduate School of Dentistry and the Graduate School of Biomedical Engineering, with input from doctors, nurses and dentists at the Tohoku University Hospital.
DATE is a reference to Sendai's famous samurai lord Date Masamune, and an acronym that represents the Alliance of Dentistry and Engineering at Tohoku University.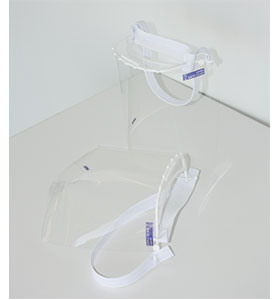 The researchers first made prototypes using 3D printers at the Creative Engineering Center, but felt that the process took too long and was labour intensive and inefficient. So they turned to a model previously developed by Yamagata University, which involved making a frame with a laser cutter, and processing an acrylic plate into a suitable shape with a cutting plotter.
Through this method, the team was able to reduce the weight of the face shield and drastically improve manufacturing speed and cost. An anti-reflective "moth-eye type" film made by Dexerials Co., Ltd., which also has non-fogging properties, was then added to give the face shield higher transparency.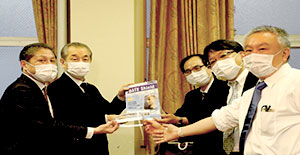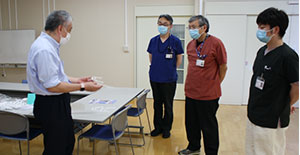 An initial batch of 800 DATE Shields was made and distributed free in mid-May to Tohoku University Hospital and other medical facilities in the prefecture, including the National Sendai Medical Center, Miyagi Dental Association, Miyagi Children's Hospital and Minamisanriku Hospital.
If the feedback is good, the research team hopes to be able to collaborate with private companies or investors, to further improve and expand the development and production of the DATE Shield.

News in Japanese
Contact:
Public Relations Office, Tohoku University Graduate School of Dentistry
Tel: 022-717-8260
Email: den-koho

grp.tohoku.ac.jp