Tohoku University has established Power Spin Incorporated, a venture business that aims to develop highly innovative integrated electronics essential to the realization of Society 5.0, the Japanese government's vision of a super smart society in which cyber space and physical space are fully integrated.
The venture was set up by the university's Center for Innovative Integrated Electronic Systems (CIES), led by director Tetsuo Endoh, who will also serve as PSI's chief technology officer. PSI will leverage its expertise in spintronics and power electronics, two fields in which CIES leads the world in research and development.
CIES has been engaged in research to improve the performance, and increase the density, of Spin-Transfer-Torque Magnetoresistive Random Access Memory (STT-MRAM), as well as the creation of IoT devices and AI chips applying STT-MRAM in IT/AI fields.
CIES has also been working on research in power electronics, focusing on compact, low loss power converters using GaN on Si power devices.
In response to increasing societal interest and needs, PSI's mission will be to further accelerate the development and implementation of these technologies, especially those suitable for business domains.
PSI's business plan and prospects have been evaluated, and it has received investments from angel funds and funds managed by Tohoku University Venture Partners Co. Ltd. (THVP), a 100 percent owned subsidiary of Tohoku University.
As a first step, PSI will develop four core businesses centering on IoT devices and AI systems with the computing performance / power consumption ratio improved by more than 100 times. This will be achieved using spintronics technology that the university has developed.
The four businesses are:
1. Design business of magnetoresistive memory such as STT-MRAM with spintronics / CMOS hybrid technology, various logic LSIs such as IoT devices and AI chips, and their modules
2. Prototype business of magnetoresistive memory based on spintronics technology, and spintronics / CMOS hybrid LSI such as IoT device and AI chip
3. Sales and licensing business of intellectual properties of various circuit IPs and PDKs related to spintronics / CMOS hybrid technology
4. Consulting service business in the relevant business domains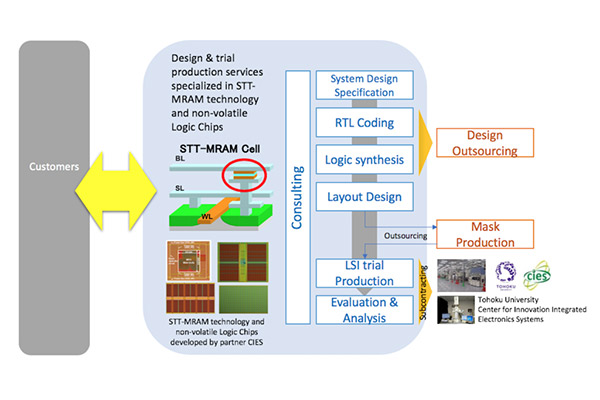 PSI will specialize in developing magnetoresistive memories such as STT-MRAM, and various logic LSIs such as IoT devices and AI chips and their modules according to customers' specifications. And it will do so with a combined spintronics / CMOS hybrid technology which has been researched and developed at Tohoku University.
It is hoped that by optimally supporting customers' businesses, Tohoku University and CIES will contribute towards strengthening Japan's industrial competitiveness.

News in Japanese
Contact:
Power Spin Incorporated
Tohoku University Center for Innovative Integrated Electronic Systems
Email: info

powerspin.co.jp