The Frontier Research Institute for Interdisciplinary Sciences (FRIS) presents a lecture on the ethics of artificial intelligence (AI) by Jaan Tallinn, a founding engineer of Skype and Kazaa. The lecture will be held in English and there is no need to register to attend.
Developing super-intelligent AI can be compared to constructing a spaceship. These days, AI researchers are mostly concerned with increasing the power of the engines (algorithms) and assembling more fuel (data). However, as in the case of a rocket, the most difficult engineering challenges are ensuring that the AI will not explode on take-off and that it will remain steerable in the long term.
Speaker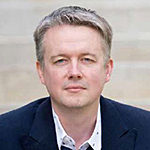 Jaan Tallinn is a founding engineer of Skype and Kazaa. He is a co-founder of the Cambridge Centre for the Study of Existential Risk, Future of Life Institute and philanthropically supports other existential risk research organizations. Jaan is on the Board of Sponsors of the Bulletin of the Atomic Scientists and has served on the Estonian President's Academic Advisory Board. He is also an active angel investor, a partner at Ambient Sound Investments and a former investor in and director of the AI company DeepMind.
Date: September 6
Time: 2:00~3:30pm
Language: English
Venue: Advanced Institute for Materials Research
(Seminar room on the 2nd floor)
Directions: http://www.wpi-aimr.tohoku.ac.jp/en/about/access/
No registration needed. This is an open event.

Event information in Japanese
Contact:
Frontier Research Institute for Interdisciplinary Sciences
Tel:+81-22-795-5755
Email: somu@fris.tohoku.ac.jp