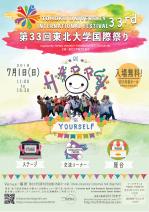 The Tohoku University International Festival (TUIF) is back on July 1, with the theme "Be Happy, Be Yourself."
The popular annual event, organized by the Tohoku University Foreign Students Association (TUFSA), is a great opportunity for participants to engage with people from around the world and experience different cultures. It brings together both local and foreign students, as well as residents across Miyagi and other prefectures.
There will be about 25 food stalls selling delicacies from around the world, and a stage featuring cultural performances. Visitors can also try their hand at games, dances and traditional craft in a special Interactive Corner. There will even be a lucky draw with great prizes.
The event is free and open to everyone.
Details
Date and Time: July 1, 2018, 11am ~ 4:30 pm
Venue: the lawn in front of Tohoku University Centennial Hall (Kawauchi Hagi Hall)
Map and Directions: https://www.tohoku.ac.jp/en/about/facilities/conferences_events/211_hagi_hall.html
*Parking is limited, so please come by public transport if possible.
*Entrance to the festival is free but tickets are required for food.
Food Tickets
Early bird food tickets can be bought for 1,200yen online before June 17. http://tuif2018.peatix.com/
They can also be purchased at the festival for 1,500yen
Volunteer Opportunities
If you'd like to volunteer to help on the day, please sign up here.
Contact:
Tohoku University Foreign Students Association (TUFSA)
Email : tufsacontact@gmail.com