In September, the Tohoku University Judo Club participated in a tour of France, as part of a delegation of judo club and alumni members from the National Seven Universities -- Hokkaido University, Tohoku University, The University of Tokyo, Nagoya University, Kyoto University, Osaka University, and Kyushu University.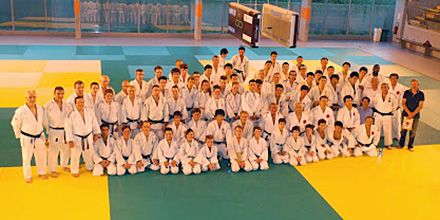 Commemorating the 100 year anniversary of Kosen Judo, exhibitions were held in Orleans, Paris, Amiens, Bordeaux, and various other cities where the delegates participated in cultural exchange through judo.
The tour gave Japanese delegates the opportunity to contribute to the growth of the sport in France and Japan, as well as to reflect on the development of judo as in international sport.
Contact:
Education and Student Support Department,
Advanced Wireless Information Technology
Student Support Division, Activities Support Section
Tel: +81-22-795-3983