On the 3rd anniversary of the 2011 Tohoku earthquake, Croatian/Slovenian cello duo, 2CELLOS, held a concert in Sendai in remembrance of those who lost their lives in the disaster. While the duo was involved in fundraising for Tohoku disaster victims in Croatia, it is their first time to come to Sendai.
"We would like to play special songs to pay tribute and to remember the victims of this great disaster and tragedy. We want to pay tribute to them, and hope, by the end of the concert, people will go home smiling with lots of positive energy"
The young cellists Luka Sulic and Stjepan Hauser, rose to fame after their cover of Michael Jackson's 'Smooth Criminal' became an internet sensation in 2011. They are accredited for breaking the boundaries between different genres of music.
The concert was held at Tohoku University's Hagi Hall to a full house, and included a mixture of jazz, classical and pop music.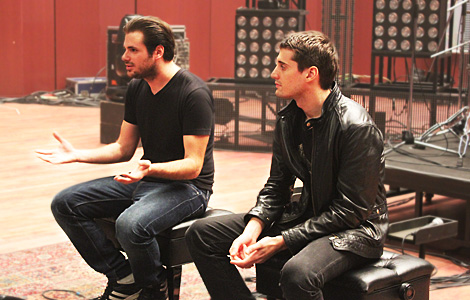 Contact:
Public Relations Division, Tohoku University
External Relations Office
E-mail: koho

bureau.tohoku.ac.jp