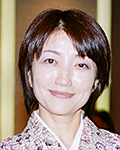 Tohoku University Law School alumna Haruko Konishi has directed a documentary that makes its debut in cinemas around the country this month.
Titled "Akahama Rock 'n Roll," the story is set in Otsuchi, a coastal town in Iwate prefecture that was one of the areas worst hit by the tsunami that followed the 2011 Great Eastern Japan Earthquake.
Akahama, for which the movie is named, is the district in Otsuchi closest to the sea. It is also infamously where a ship crashed into the roof of a building after being swept ashore by 22-meter-high waves - one of the most iconic images of the tsunami.
More than 1,200 townsfolk perished in that disaster, and Konishi's film focuses on the surviving residents' protests against a controversial decision by the central government to build a 14.5 meter-high seawall to protect them against future tsunamis.
The residents insist that homes in the district should be moved to higher ground instead. They say that a 14.5 meter seawall would not only be inadequate protection from another big tsunami, it would also obscure their view of the ocean. Most of Akahama's residents work in the fishing industry and fear being cut off from their livelihood.
The cost of the proposed structure has been estimated at some 1 trillion yen (over 8 billion USD), and residents are also unhappy about who's footing the bill in the long run.
Konishi's documentary follows the lives of two central characters - Hiromi Kawaguchi, the chairman of the Akahama Reconstruction Committee, and Tsutomu Abe, a rock 'n roll- loving fisherman who was born in Akahama.
The director says her aim is to show the pride of Japan's coastal villagers and their desire to rebuild their community in meaningful ways.
In "Akahama Rock 'n Roll," fisherman Abe represents the community's soul, while Kawaguchi leads the local resistance against plans to build the seawall. Together their narratives tell the story of a small community inextricably connected to nature and looking for a future beyond short term economic benefits and charity.
Akahama Rock 'n Roll will screen at Forum Sendai from July 25.
Directions:

Take the subway to Kita Yobancho station and exit at North 2. The theatre is a 5 minute walk from the station.
2 Chome-1-33 Kimachidōri
Aoba-ku, Sendai-shi, Miyagi-ken 980-0801
For enquiries about this article:
Tohoku University International PR Section
Tel: +81-22-217-4816
Fax: +81-22-217-4818
Email: public_relations

gpr.tohoku.ac.jp