Tohoku University Library has found 20 handwritten notebooks belonging to Wilhelm Windelband, a world- renowned German philosopher and a historian of philosophy. The notebooks consist of lecture notes, as well as drafts of his own works.
Windelband (1848-1915) is known as the central figure of the Southwest School of neo-Kantianism. His book "Geschichte der Philosophie" (History of Philosophy) was translated into Japanese and published here as early as 1902. His other works were also introduced and contributed significantly to the acceptance and development of Western philosophy in Japan.
Tohoku University Library found his 20 handwritten notebooks in 2015 in the stack room during a retrospective updating of its catalog database. Authenticity of the notebooks was verified with significant help from Heidelberg University, in Windelband's native Germany.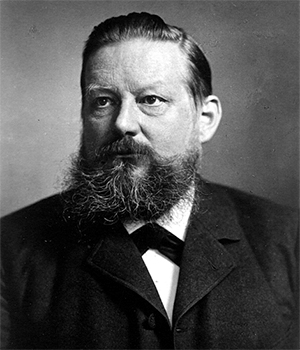 Windelband was a professor at Zurich, Freiburg and Heidelberg Universities. He is known for establishing philosophy as a study to criticize values, as well as for his contribution to the history of philosophy with his innovative description methods.
He left a number of writings that largely influenced the development of philosophy. His thought, however, is not organized systematically in his works. That is why he was even called a "forgotten neo-Kantian" at a memorial event held in Germany last year to mark the 100th anniversary of his death.
According to Dr. Horst Gundlach, a professor emeritus at Heidelberg University and a former professor at the Adolf-Würth-Center for the History of Psychology at the University of Würzburg, these notebooks will be considered highly important materials to historians of philosophy since very few of Windelband's manuscripts exists. Most of his belongings were burned in air raids during World War II.
Dr. Peter König, also of Heidelberg University, agreed. "The fact that we know nothing about his remains disappointed the assembly in the symposium in March," he said, referring to the Windelband symposium held last year. "So I am really pleased to hear the news that his notebooks were found in Japan."
Tohoku University bought these notebooks for 135.50 yen through German book seller Gustav Fock in 1926.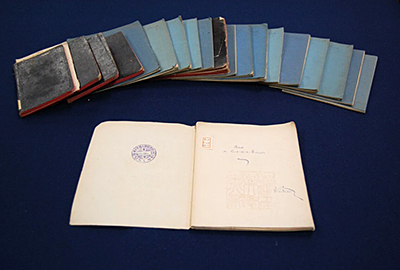 Contact:
Tohoku University Library
Email: etsu2

grp.tohoku.ac.jp
www.library.tohoku.ac.jp/en/