Think summer in Sendai and the indelible image of gorgeous Tanabata decorations hanging around the station and city centre comes immediately to mind.
Tanabata is one of the most important festivals in Sendai. It dates back to the era of the city's first lord Date Masamune and attracts millions of tourists to Sendai each year. Unlike the rest of Japan, which celebrates Tanabata on July 7, Sendai marks the event in August, with large hanging ornaments made of bamboo and colourful paper.
To get into the spirit of the season this year, students on Tohoku University's International Program in Liberal Arts (IPLA) made a set of Tanabata ornaments as part of a class project.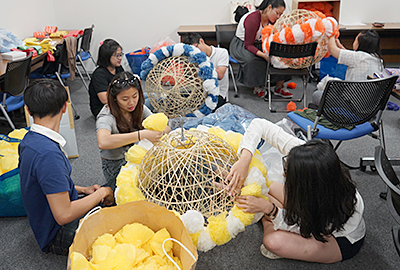 "The class gave students the chance to get physically involved in traditional activities," said Assistant Professor Kaori Shimasaki of the Global Learning Center. "Through interacting with local community members, the students not only practiced their Japanese, they also got to know what life in Japan is really like."
Some 50 students were involved in making the Tanabata decorations - designing the set of five ornaments from scratch, and putting it all together by hand.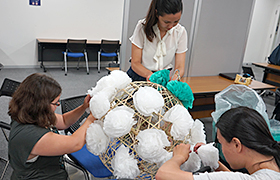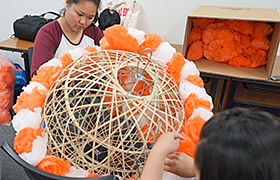 "We went to Narumiya-kamishouji, the paper factory, to choose the materials," said Yi-Shan Cheng, whose group's design was selected by the class. "At the factory, we saw examples of streamers and ornaments. We saw staff working on them and we learned a lot by watching closely and asking questions. They were really helpful and patient with us."
The project took the students about six weeks to complete and features a design that they hope reflects both the university as well as the diversity of the project members.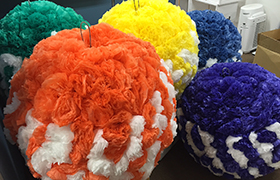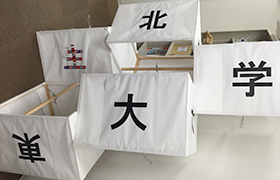 "Our idea was to use kirigami artwork," said Cheng. "Since we are representing Tohoku University, we initially wanted the dominant colours to be those often used by the university, such as purple, green and orange. But in the end we decided to make them colourful to reflect who we are - a group of international students with different cultural backgrounds working in harmony to create these beautiful decorations."
The students' ornaments will be hung near Fujisaki Department store on Ichibancho from Aug 6 for the Tanabata Festival, after which they will be moved to Kawauchi Campus.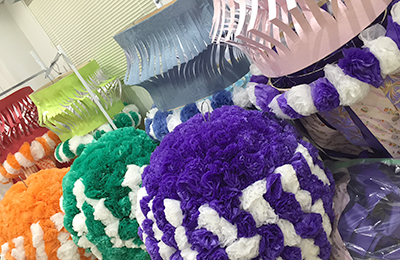 Contact:
Global Learning Center
Kaori Shimasaki Email: k.shimasaki@m.tohoku.ac.jp
Tel: +81 22 795 3749