The arrival of spring marks the start of the "matsuri" or festival season in Japan. Here in Sendai, there is none bigger or more anticipated than the Aoba Matsuri, a weekend of traditional dancing and street festivities along Jozenjidori.
The highlight of the annual festival is the Suzume Odori or 'sparrow dance,' which dates back to the building of Sendai castle in 1603, when stone masons danced like sparrows to entertain feast-goers and their samurai lord, Masamune Date.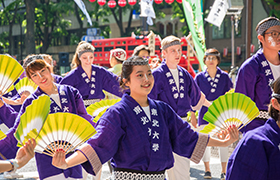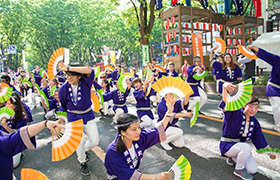 Tohoku University usually fields an international team to dance in the gakuen tengoku or schools competition. But this year, Associate Professor Kaori Shimasaki, who coordinates the group, wanted the students to focus more on the tradition and history behind the dance, rather than on competition.
"We competed last year and the year before and there was a lot of emphasis on creative choreography. This year I thought it might be more interesting for the students to approach the dance in a different, more back-to-basics way."
So instead of original choreography drawn from the international students' own cultures, the group performed the Suzume Odori the traditional Japanese way on both the festival stage and in the parade. For the international students, the experience was a deep study and understanding of Japanese culture, and many said that they felt a strong bond with their fellow Japanese participants.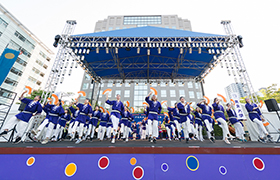 Tohoku University's team consisted of some 42 students, almost all of them from the International Program for Liberal Arts (IPLA). The students wore purple happi coats bearing Tohoku University's name and crest, and performed with the familiar paper fans. They were once again accompanied by local drumming group Hiyokko (雛鼓) who, along with several students, provided music using traditional instruments.
The Aoba Matsuri is held every May in Sendai, and attracts about a million people from all over Japan.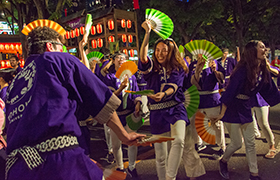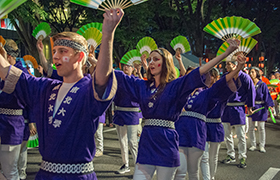 News in Japanese
Contact:
Tohoku University Global Learning Center
Kaori Shimasaki
Tel: +81-22-795-3749
Email: k.shimasaki m.tohoku.ac.jp