Elementary school students gathered at the Qatar Science Campus Hall to make a 'talking picture book'.
The Qatar Science Campus is a Qatar Friendship Fund (QFF) rehabilitation project for the Tohoku region and is financially supported by the QFF. Events are held in the Tohoku University Qatar Science Campus Hall (QSC) at the School of Engineering on the Aobayama Campus.
The QSC provides school children in Miyagi prefecture with the opportunity to study alongside advanced scientific researchers and to take part in scientific experiments. It offers various events such as experience-based science experiments, laboratory tours, science shows and factory tours for students. The talking picture books event was held this month.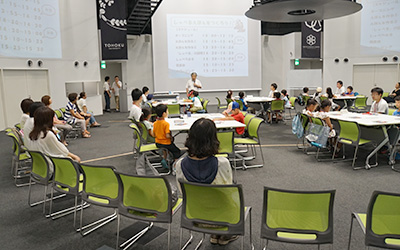 First students were separated into groups. The younger ones colored in pictures to go with the stories they were given, while older students wrote stories and drew pictures while exchanging ideas. The written data was input into a computer and using a speech synthesis system, was changed to sound data. From there the accents or intonation were adjusted to make the speech sound more natural.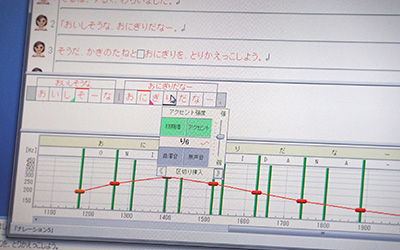 At the end of the event, the books were screened on nine screens on the wall of the QSC Hall. One student said, "It was really cool making a story with others. Adjusting the accents made the sentences sounds totally different! I would love to join a QSC event again."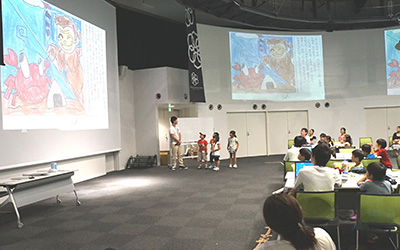 The QSC aims to fuel student interest in science and manufacturing technology, as well as to cultivate engineers and researchers of tomorrow to create new industry in the region.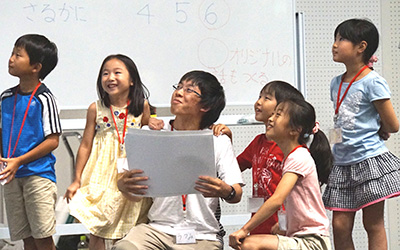 Contact:
QSC, School of Engineering, Tohoku University
phone +81-22-795-5047
email qsc

eng.tohoku.ac.jp