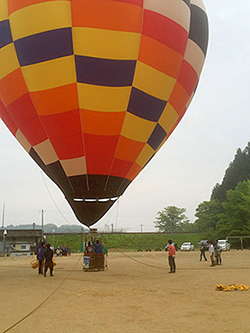 Members of the Tohoku University Hot Air Balloon Club took to the skies last weekend to observe the reconstruction work along the region's coast that was devastated by the 2011 earthquake.
Seven university students, with help from the Saga City Balloon Pilot Club, took off from Taro Daiichi Elementary School in Iwate on May 16. The weather that morning was wet and cloudy, but the team managed to avoid strong winds by taking off early, at 7am.
From a height of 15 metres, they observed the progress made in clearing the area of debris, and in the reclamation of land where the earth had sunk.
A resident from the Taro township, whose house was destroyed in the tsunami, boarded the balloon with her two children. "We could see all the new buildings from above," she said. "I was surprised to see how much progress had been made with the reconstruction."
For her five-year-old son, going up in a balloon was an exciting experience. "We could see the sea and it was fun," he said. The students too, cheered when the sea became visible beyond the seawall.
The balloon is 20 metres tall, 15 metres in diameter and powered by propane gas.
This is the second time a balloon has gone up to make an aerial observation of reconstruction efforts in Iwate prefecture. A similar observation was made from Yamada town last year.
Contact:
Tohoku University Public Relations Division
Tel: +81-22-217-4977
Fax: +81-22-217-4818
Email: public_relations

bureau.tohoku.ac.jp