Some 30 participants from Tohoku University were in Onagawa recently on a special Learning Trip jointly organized by student groups SCRUM and TUFSA.
Onagawa is a small fishing town in Miyagi Prefecture that was heavily damaged by the 2011 earthquake and subsequent tsunami. The purpose of the trip was to introduce new students to the challenges still faced by coastal towns, and to promote interaction and communication between the students and the local communities there.
"We realized that there are many volunteer programmes for people who understand Japanese," says Gekko Patria Budiutama, a TUFSA member from Indonesia. "But for those who don't, there are very few options. International students also want to contribute and give something back to help the local communities. So when SCRUM invited us to do this trip with them, we gladly accepted."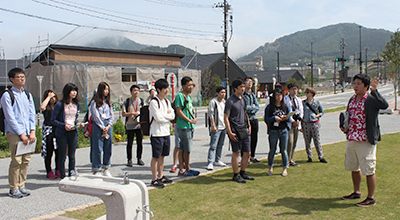 Five years after the disaster, Onagawa is one of the fastest recovering towns along the coast, reinventing itself as a vibrant and easy getaway for city dwellers in Sendai. There are new coffeehouses, restaurants and shops, a craft-beer bar, a Spanish-tile factory, and even a new train station designed by Pritzker Prize-winning architect Shigeru Ban.
During their weekend visit, the students met with local businessmen who explained the town's strategy of prioritizing economic recovery.
"They decided to build this beautiful station and shopping street before giving permanent housing back to the people. I bet this decision was very unpopular," says Budiutama, who was one of the trip's organisers. "But the mayor of Onagawa and the reconstruction leaders understood the importance of creating jobs and repairing the economy before anything else, in order to move forward."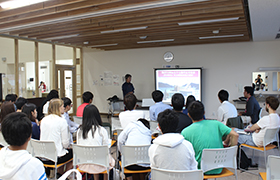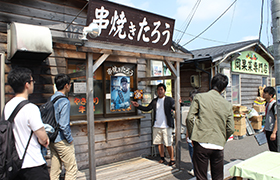 To make up for the lack of human resources, the town said it went online to look for entrepreneurs with good ideas. "They even adopted a crowdsourcing business model so that people from all over Japan can be recruited to work with them through the internet," says Budiutama.
Impressed with the town's creative solutions, the students were inspired to offer ideas of their own, suggesting projects such as a marathon or cycling event in Onagawa to attract more visitors.
According to SCRUM member Moritaka Shirai, a previous visit to Onagawa had in fact successfully led to a new local festival - the Onagawa Summer Festa. The idea came from an American friend who wanted to bring music, energy and young crowds to the town. Shirai hopes the ideas from this trip will similarly take root.
"Some international students, even some Japanese students, have a negative image of disaster areas, they think it's only sadness and pain," he says. "But these areas would not be able to recover if everyone keeps having those kinds of feelings. Onagawa was able to move forward because it's been very positive and creative."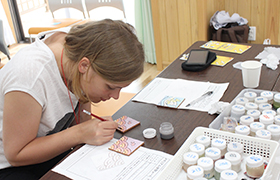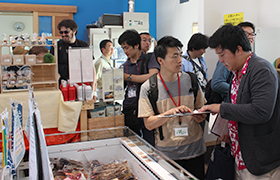 At the end of the visit, the students performed "Sanma de Samba" for their hosts. The local folk dance is usually enjoyed during Onagawa's popular Sanma Festival.
SCRUM is a student group within the Tohoku University Volunteer Support Center. They plan regular tours to Iwate, Miyagi and Fukushima Prefectures to help the disaster victims.
TUFSA is the Tohoku University Foreign Student Association, which provides support for the university's large and active international community.
This is the second time that both organisations have collaborated on a study tour. They also visited Ishinomaki in January.
Contact:
Moritaka Shirai
Tohoku University Volunteer Support Center
Email: vol.tohoku.univ@gmail.com