Tohoku University's American Football team, the Hornets, has beaten Hokkaido University's Big Green in the eastern championship semi-final at the Sapporo Dome.
The Hornets stung their opponents 29-22 to win the Pine Bowl - the game between the top student teams from the Tohoku and Hokkaido regions - on November 5.
The win takes the Hornets through to the eastern championship final which will be played on December 4, at the Aminovital Field in Tokyo.
If they succeed in winning the eastern championships, the Hornets will face the western champions in the Japanese National College Football Championship, known as the Koshien Bowl, on December 18.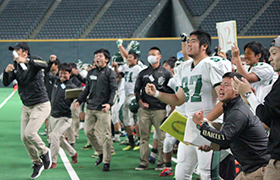 Contact:
Education and Student Support Department
Tel: +81-22-795-3983