An information exchange meeting was held at Katahira Campus on July 20, between representatives of nine university departments and the staff of the Tohoku University China Office.
The meeting was led by Executive Vice President Toshiya Ueki, who is also the director of the Tohoku University China Office, and Executive Vice President Sadayoshi Ito.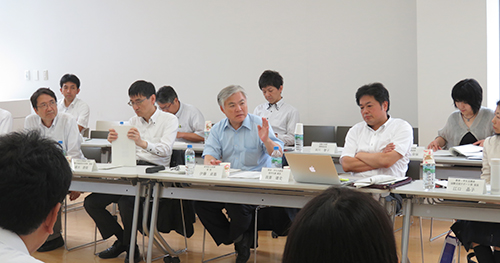 They welcomed three senior researchers from the China Office - Yu Jingzhi of Tsinghua University, Wan Jiang of Donghua University and Min Jiang of Northeastern University. They shared information on recent developments at Tohoku University and also discussed current trends in education and research in China.
Sendai-based representatives from the nine university faculties raised questions and offered opinions on the future role and activities of the China Office. Specifically, they discussed public relations strategies in each academic field, which can be used to further appeal to Chinese students and researchers who wish to study at Tohoku University. They also explored ways in which the China Office could be a go-between to facilitate such exchanges.
In the afternoon, the senior researchers visited the University Archives and the new extension of the Aobayama Campus. Touring Aobayama Commons, the Graduate School of Agriculture and the International Research Institute of Disaster Science, they had a first-hand look at the on-going efforts to improve the university's study and research environments.
Contact:
International Exchange Division
Tel: +81 22 217-4844
Email: kokusai-r@grp.tohoku.ac.jp