Executive Vice President Toshiya Ueki led a team from Tohoku University to Birmingham, England, recently for the 38th EAIR Forum organized by the European Higher Education Society. He was accompanied by Prof. Akiyoshi Yonezawa, Dr. Hirofumi Seike and Kazutoshi Ono.
The event, which was held from August 31 - September 3 at Birmingham City University, was themed "Only Connect: Collaboration, Cooperation and Capacity Building through HE Partnerships." It involved more than a hundred university and government representatives from over the world specializing in institutional research or IR.
IR refers to the collection and analysis of data relating to a university's activities such as education, research and finances. The results of which are then used to support the university's strategic decision making.
On the sidelines of the event, Tohoku University representatives met with Professor Ellen Hazelkorn of Dublin Institute of Technology, who is president of EAIR, and Professor Jeroen Huisman of Ghent University, who is chairman. They discussed current and future trends of institutional research in Europe, as well as opportunities for collaboration between Tohoku University and other members of EAIR.
EAIR was founded in 1979 as a European version of the US-based Association for Institutional Research (AIR). There are currently over 400 members from more than 50 countries.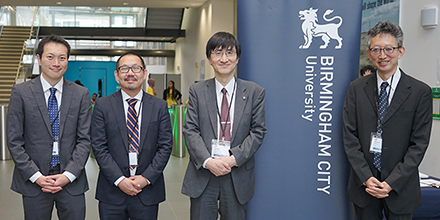 Contact:
Kazutoshi Ono
Office of the President
Tohoku University
Email: skk-staff@grp.tohoku.ac.jp