A group from Tohoku University joined an official Sendai City delegation on a two-day visit to France on October 20, to commemorate the 50th anniversary of Rennes and Sendai becoming sister cities.
The 15-strong Sendai City delegation was led by Mayor Kazuko Koori and included Norio Saito, chairperson of the Sendai City Assembly, and other city officials. The group from Tohoku University included Executive Vice President Toshiya Ueki, Professor Emeritus Shun-Ichiro Tanaka of the New Industry Creation Hatchery Center and Professor Naruhiko Teramoto of the Graduate School of International Cultural Studies.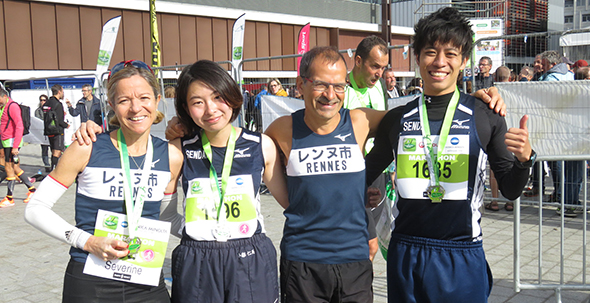 Accompanying the faculty members were two students from the Graduate School of Science, who took part in the Green Marathon in Rennes on October 22. Both Sendai and Rennes regularly send runners to participate in each other's marathons as part of an inter-city cultural exchange. Yuuki Fujita and Hitomi Urabe, encouraged by the local turn out, completed the full marathon in under four hours.
Aside from the marathons, Sendai and Rennes hold many other business and cultural exchange activities. According to city officials, Japanese cultural events in Rennes, such as martial arts demonstrations and calligraphy exhibitions, are very popular.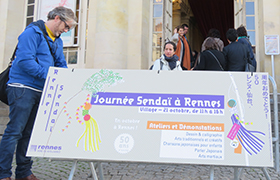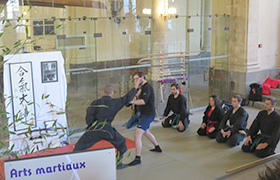 EVP Ueki met with researchers from the Franco-Japanese Management Centre at Université de Rennes 1, and with the Vice President for International Relations Lesley Lelourec at Université Rennes 2.
Their discussions focused on past and existing exchanges, as well as the mutual desire for more future collaborations.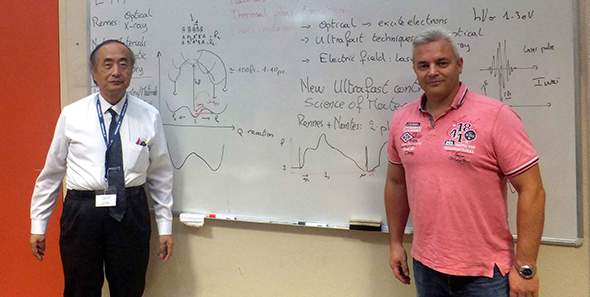 Professor Tanaka from NICHe, who had for many years led a research project in materials science called "Frontier," met with Professor Eric Collet of Université de Rennes 1, who is a co-director of the IM-LED project. Following the success of the Frontier project, both professors plan to work together on the IM-LED* project for the next four years.
Professor Naruhiko Teramoto, acting as coordinator for Tohoku University's Graduate School of International Cultural Studies, visited the Villejean Campus of Université Rennes 2 and spoke with faculty members there. Both institutions agreed to further the exchange of researchers in fields such as Japanese studies.
Tohoku University and Université Rennes 2 are also working towards renewing their academic exchange agreement.
*IM-LED:

An international collaborative laboratory with researchers from eight universities in France and Japan. These include Tohoku University, as well as the French National Center for Scientific Research (CNRS). The researchers are working together to develop new substances that respond to ultra-high-speed optical pulses in order to develop next-generation high-speed optical communications and the technological foundations for optical computing.
Contact:
International Exchange Division, Tohoku University
Tel: +81 22 217-4844
Email: kokusai-r@grp.tohoku.ac.jp