A delegation from Tohoku University, led by President Susumu Satomi, attended the Eastern Economic Forum (EEF) held at Far Eastern Federal University in Vladivostok, Russia between September 5 - 7. This was the third meeting of the EEF, regarded as an important event for maintaining and developing economic ties between eastern Russia and Asia.
A number of major political figures participated, including Russian President Vladimir Putin, Japanese Prime Minister Shinzo Abe and South Korean President Moon Jae-in.
Photo credit: Roscongress Foundation
The group from Tohoku University comprised Executive Vice President Toshiya Ueki, Professor Kaoru Maruta (Institute of Fluid Science) and Associate Professor Nurbosyn Zhanpeisov (Institute for Excellence in Higher Education, Global Learning Center).
At the forum, President Satomi participated in the APEC Conference on Cooperation in Higher Education and in a Japan-Russia Business Roundtable discussion. He also delivered a speech at the plenary session of the Japan-Russia Student Forum, which was held concurrently, within the framework of the EEF. There, he spoke on behalf of the host institutions - Tohoku University, Hokkaido University, Far Eastern Federal University and Moscow State University.
In addition, President Satomi attended a private meeting with Prime Minister Abe and other Japanese participants. Japanese students had met earlier with their Russian counterparts at the Japan-Russia Student Forum, and President Satomi reported to the Prime Minister that the students were discussing ways to improve future relations between the two countries.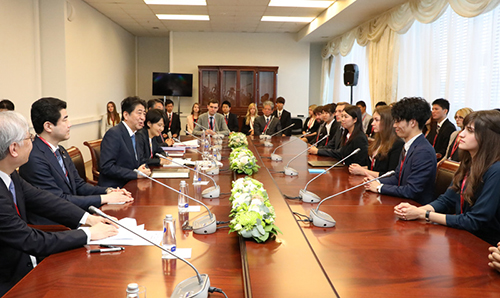 Photo credit: Cabinet Public Relations Office
With President Satomi in attendance, the prime minister then met with the students, and received the results of their discussion in a written proposal. In it, the students suggested the establishment of a Japan-Russia Student Association, and for student visas to be waived.
The prime minister told the students that he was delighted with their enthusiasm and ideas and expressed hopes that such engagement and discussions would not only continue but lead to a bright future for Japan and Russia.
The EEF and sideline events were extensively covered by the media, with reports appearing on television, newspapers as well as the websites of the prime minister's official residence and of the central government.
Contact:
International Exchange Division, Tohoku University
Email: kokusai-r@grp.tohoku.ac.jp