An agreement to establish a new ELyT MaX laboratory was recently concluded at Tohoku University. President Susumu Satomi and representatives from INSA Lyon, CNRS and ECL signed the deal at a ceremony on October 27.
ELyT was originally set up in 2008 to promote collaborative research, workshops and summer school programs among members. Using the international research organization Unité mixte international (UMI), founded by CNRS, the group has now created the long-term research unit, ELyT MaX.
ELyT MaX - which stands for Engineering & Science, Lyon -Tohoku joint laboratory for Materials and Systems under Extreme Conditions - aims to expand on the group's cooperative research potential.
After the signing ceremony, the group did a short tour around Tohoku University, visiting the Material Solution Center (MaSC) and Professor Kazuhiro Ogawa's engineering laboratory.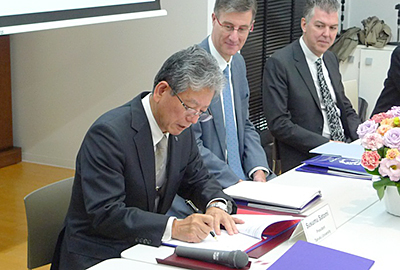 President Satomi signs the agreement
Contact:
International Exchange Division, Tohoku University
Tel: +81-22-217-6182