An agreement has been reached between the Russian Federation and Japan, to have their institutions of higher education work more closely together.
Tohoku University President Susumu Satomi and Moscow State University Rector Viktor Antonovich Sadovnichiy, representing their respective countries, signed a Memorandum of Understanding at a ceremony in Tokyo on December 16. Japanese Minister of Education, Culture, Sports, Science and Technology, Hirokazu Matsuno, was also in attendance.
Copies of the agreement were then exchanged at the Prime Minister's Official Residence, where Japanese Prime Minister Shinzo Abe was hosting a visit by Russian President Vladimir Putin.
This MOU was first proposed by Moscow State University at the 6th Japanese-Russian Forum of Rectors last October. The agreement will see the establishment of an Association of Institutions of Higher Education, aimed at promoting more academic exchanges and joint education programmes between Japan and Russia.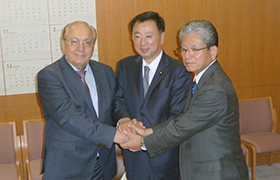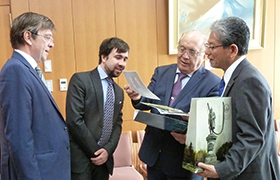 Contact:
International Exchange Division
Tel: +81 22 217-6020