Tohoku University President Susumu Satomi and Associate Executive Vice President Masahiro Yamaguchi attended the second subcommittee meeting of the Japan-Russia Business Dialogue held in Tokyo on December 16. The event was hosted by KEIDANREN (Japan Business Federation) and the Japan Association for Trade with Russia & NIS (ROTOBO).
The theme of the meeting was on ways to increase cooperation and the exchange of human resources. President Satomi served as moderator for the Japanese side. Representatives from nine universities, local governments and businesses shared the results of their exchange efforts, with AEVP Yamaguchi giving a presentation on the status and outlook of Tohoku University's academic exchanges with Russia.
It is hoped that through the further exchange of human resources, both Japan and Russia will continue to benefit from stronger tourism, business and academic collaborations in the future.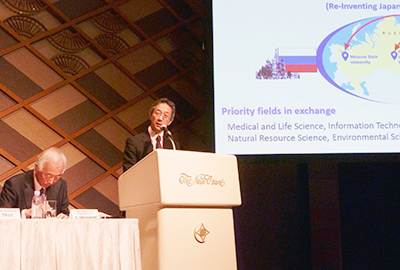 Contact:
International Exchange Division
Tel: +81 22 217-6020