Tohoku University has opened a representative office in Bangkok, a reflection of the university's strengthening ties with its partner institutions in Southeast Asia.
The new office is located at Chulalongkorn University, an academic exchange partner, and will serve to enhance existing exchanges and promote higher levels of future cooperation. Specifically, the office will help to recruit international students, support the activities of alumni groups, as well as facilitate internship programs with local businesses.
The opening ceremony was held on August 29. Among the guests of honour present were Tohoku University President Susumu Satomi and Chulalongkorn University President Bundhit Eua-Arporn, as well as members of the Thai Research Fund and the Embassy of Japan in Thailand.
Following a few congratulatory remarks and the official ribbon cutting, Tohoku University and Chulalongkorn University renewed their academic exchange agreement, which was originally signed in February 2011.
Chulalongkorn University is the oldest and one of the most prestigious universities in Thailand. Among its alumni are many of the country's political and financial leaders. The university is named after King Chulalongkorn (Rama V), and was founded by King Vajiravudh (Rama VI). It's a comprehensive university with 35 departments and research laboratories. Located in central Bangkok, the university has 26,000 undergraduates, 13,300 graduate students and 2,800 faculty members.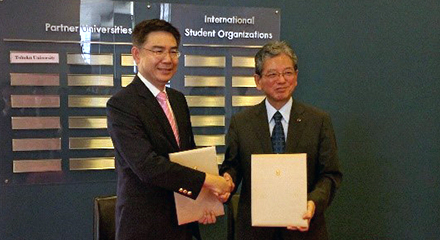 On the sidelines of the ceremony, Tohoku University's study abroad programs were introduced, and a special seminar on Material Sciences was held for Chulalongkorn University researchers. Professor Eiji Saitoh of the Institute for Materials Research /AIMR spoke on the connection between Materials Research and Spintronics, and their importance to Tohoku University's global initiatives.
Bangkok is the fourth city to host a Tohoku University representative office, after Beijing, Moscow, and Novosibirsk. The offices are part of the university's international outreach, following its selection for the Top Global University Project by the Japanese Government (MEXT).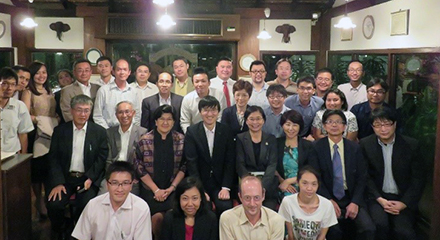 In the evening, following the opening ceremony, a social event was held for alumni and supporters of Tohoku University in Thailand.
Thirty-two people attended, including members of the "Aobakai," Japanese alumni living in Thailand, Thais who had studied or done research at Tohoku University, and high school principals who have supported the Future Global Leadership Program (FGL).
At the event, President Satomi expressed his appreciation for the alumni's love and support for the university, and hoped that the gathering would be the impetus for more alumni activities. For their part, the alumni shared anecdotes of their recent activities, and reminisced about their days studying in Sendai.
Contact:
International Exchange Division,
Tohoku University
Tel: +81 22 217-4844