Tohoku University has established its 13th Overseas Liaison Office at one of Taiwan's leading universities, National Chiao Tung University (NCTU), which is based in Hsinchu City.
Underlining the importance of the event, the 10-member party from Tohoku University included President Susumu Satomi, Executive Vice President Toshiya Ueki, Director of the Institute of Fluid Science Shigeru Obayashi, and Motoko Kotani, Director of the Advanced Institute for Materials Research (AIMR).
Tohoku University and NCTU already have a shared history of outstanding research achievements in microelectronics and advanced devices stemming from the establishment of an Academic Exchange Agreement between the two universities in December 2005. Recent collaborative work between Professor Yiming Li of NCTU and Professor Seiji Samukawa of Tohoku University's Institute of Fluid Science has produced remarkable results in the development of quantum dot devices and the most advanced transistors.
The new Liaison Office is expected to strengthen collaboration in this field, as well as initiate and encourage further exchanges between the two universities.
President Satomi and NCTU President Mau-Chung Frank Chang signed the agreement at a ceremony on May 4, which was followed by a lively discussion of the possibilities offered by the Liaison Office. Among them - the implementation of double degree programs, joint laboratories and collaboration in biomedical engineering.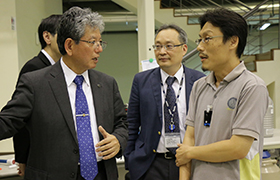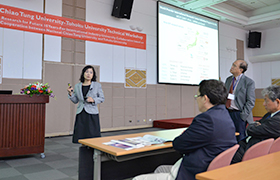 A workshop on nanotechnology and semiconductors was held later in the afternoon with researchers from both universities engaging in presentations and discussions of their work.
Before wrapping up the visit, the delegation visited the neighboring Science Park, where they observed the work being done at the National Nano Device Laboratories (NDL) and the National Synchrotron Radiation Research Center (NSRRC).
Tohoku University is committed to greater industry-academic cooperation, and President Satomi and EVP Ueki were especially interested in learning about NCTU's success in working closely with its industrial partners.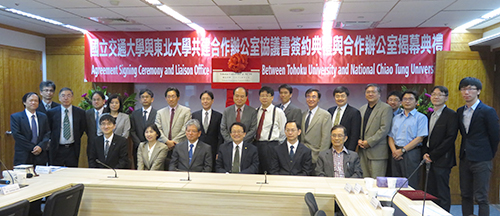 Contact:
International Exchange Division
Tohoku University
Tel: +81 22 217-4844