The International Combustion and Energy (ICE) Lab is a joint research center that conducts research on heat recuperation during energy production. The lab was founded at the Far Eastern Federal University(FEFU) in Vladivostok, with support from a Russian Ministry of Education and Science mega-grant.
Professor Sergei Mynaev heads the team of Russian scientists from FEFU, while Professor Kaoru Maruta from the Institute of Fluid Science leads the team at Tohoku University.
On November 12, Russian President Vladimir Putin visited the ICE Lab in Vladivostok and was introduced new concepts in combustion technology by Prof. Maruta.
The event was transmitted live to students of the Energy Dynamics Lab at the Institute of Fluid Science through web conferencing. Students were delighted as President Putin waved and smiled to them on screen, prompting a large wave back.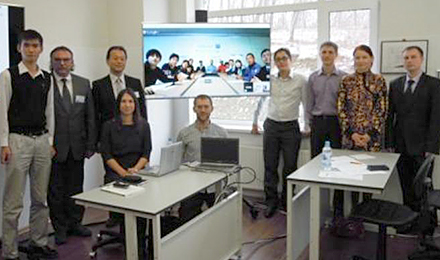 Contact:
Professor Kaoru Maruta
Institute of Fluid Science
Tohoku University
Tel: +81-22-217-5319