Tohoku University and Case Western Reserve University have signed a Memorandum of Understanding.
President Susumu Satomi and Case Western Reserve University President Barbara Snyder inked the deal in a ceremony held in Cleveland, Ohio, on July 29. Consul General Kazuyuki Katayama from the Consulate-General of Japan in Detroit witnessed the signing, and a congratulatory message from Japan's Minister of Education, Culture, Sports, Science and Technology, Hakubun Shimomura, was read.
The agreement brings Tohoku University closer towards incorporating the field of Data Science into its International Joint Graduate Programme - under the framework of the Top Global University project.
On the sidelines of the ceremony, a 2-day symposium on Data and Life Science Collaboration was held. Researchers and students from Tohoku University's Graduate Schools of Information Sciences and Medicine, as well as the Institute for Materials Research and the Tohoku Medical Megabank Organization, were among the participants.
Case Western Reserve University is located in the American state of Ohio. It was formed in 1967 when Case Institute of Technology and Western Reserve University merged.
Since then, Case Western Reserve University has achieved great success in the fields of medicine and bioinformatics. It is known for using Data Science in most of its education fields, as well as for being on the leading edge of applying it to research in medicine. It has 16 Nobel Laureates among its graduates.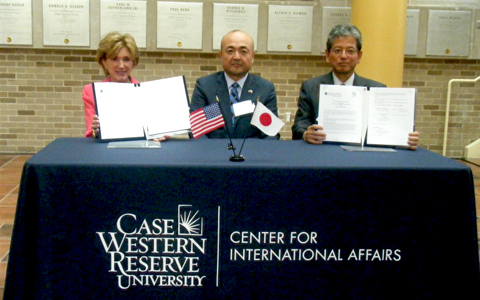 (From left) President Barbara Snyder, Consul General Kazuyuki Katayama, President Susumu Satomi.
Contact:
Tohoku University International Exchange Division
Tel: +81-22-217-4844
Email: kokusai-rgrp

tohoku.ac.jp