Tohoku University and Michigan State University have signed a General Agreement for Academic Cooperation that will now allow student exchanges from our Electrical and Mechanical Engineering departments.
The agreement was inked on September 25 by Michigan State University Executive Vice President Satish Udpa and Tohoku University President Susumu Satomi during a visit to Sendai. Also present at the ceremony were delegates from both universities, including Executive Vice President Toshiya Ueki.
Before the ceremony, the delegates met to discuss current research in their fields as well as ways to further encourage student exchange. They then toured the Institute of Fluid Science and the School of Engineering.
Michigan State University is located in East Lansing in the American Midwest. Like Tohoku University, it is known as one of the top research universities in the world.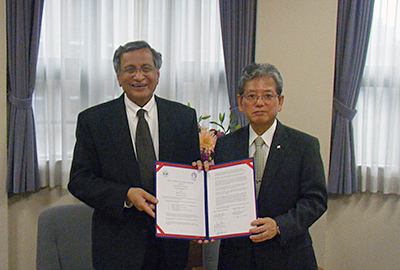 Contact:
Yuji Wagatuma
International Exchange Division
+81-22-217-6182