Tohoku University and the University of Melbourne have signed a Strategic Partnership Agreement to facilitate a university-level partnership and the development of student exchange programs. The agreement was signed in Australia on February 29 by the University of Melbourne Pro Vice-Chancellor Simon Evans and Tohoku University Executive Vice President Toshiya Ueki.
Before the signing ceremony, the delegates met faculty members who are working with Tohoku University. They discussed the progress of current joint research activities, as well as ways to encourage further cooperation.
It was decided that a joint research workshop be held later this year in Melbourne.
Like Tohoku University, the University of Melbourne has a long history of academic and research success. Established in 1853, it has produced 17 Nobel laureates, three Australian prime ministers and four attorney generals. In 2008, it launched the 'Melbourne Model,' one of the most commonly cited examples of modern curriculum reform in higher education. The model is based on students studying for a 'generalist degree' first, followed by a specialist Masters degree.
As a key member of Japan's Top Global University Project, Tohoku University hopes that agreement will stimulate more exchanges among students, faculty members and staff. It is also expected that the two universities will co-organize seminars and conferences, and increase their joint research activities.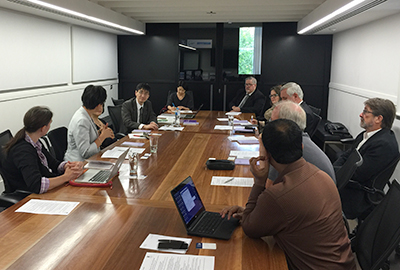 Contact:
Office of the President
Tel: +81-22-217-5009
Email: skk-staff

grp.tohoku.ac.jp