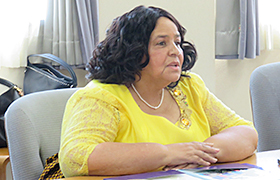 Ambassador Beryl R. Sisulu of the Embassy of the Republic of South Africa in Japan, met with Executive Vice President Toshiya Ueki during a visit to Tohoku University on August 9. They discussed the feasibility of more exchanges in the future between Tohoku University and universities in South Africa.
Also present at the meeting were Associate Professor Samuel O. Oluwafemi of the University of Johannesburg, as well as Vice Dean Ryoichi Nagatomi and Professor Tetsuya Kodama from Tohoku University's Graduate School of Biomedical Engineering.
Rounding up their visit, the group toured Tohoku University Hospital and Professor Kodama's laboratory, where they were introduced to the collaborative research of of Professor Kodama and Associate Professor Oluwafemi.
Contact:
International Exchange Division
Tel: +81 22 217-4844