The Vice President for International and External Affairs at Université Grenoble Alpes, Jérôme Gensel, visited Tohoku University on October 27, and called on Executive Vice President Toshiya Ueki.
At the meeting, VP Gensel spoke of his university's international research and industrial efforts, and shared his own belief in the importance of interdisciplinary research with EVP Ueki. He expressed his hope that Université Grenoble Alpes and Tohoku University can engage in more exchanges between them. Tohoku University had signed an academic exchange agreement with Universités de Grenoble, the predecessor consortium of Université Grenoble Alpes, in 2000.
After the meeting, VP Gensel was given a tour of the TOKYO ELECTRON House of Creativity and a brief introduction to the Tohoku Forum for Creativity by its Vice Director Yoshiaki Maeda.
Université Grenoble Alpes was founded in 1339, but was split into several institutions in 1970 due to a change in the French education system. But in January this year, three of those institutions - Joseph Fourier University, Pierre-Mendès-France University and Stendhal University - were brought back into the fold as part of a new, reunited Université Grenoble Alpes.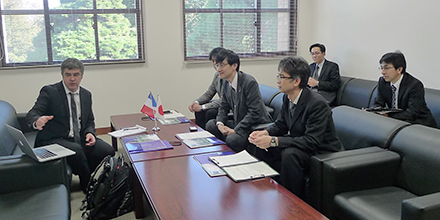 Contact:
International Exchange Division
Tel: +81 22 217-4844