University of Denver Associate Provost for Internationalization Luc Beaudoin met with Executive Vice President Toshiya Ueki, during a visit to Tohoku University on October 27.
The meeting, which was also attended by Associate Executive Vice President for International Affairs Masahiro Yamaguchi and Professor Kazuko Suematsu, touched on discussions about student exchanges, and opportunities for further collaboration between the two universities.
Associate Provost Beaudoin later toured parts of campus, including University House Sanjo and the University Library at Kawauchi.
Founded in 1864, the University of Denver is a private university located in the US state of Colorado. In addition to having world class education and research, it is known for its many famous athletes and for having a quarter - as opposed to the more common semester - system.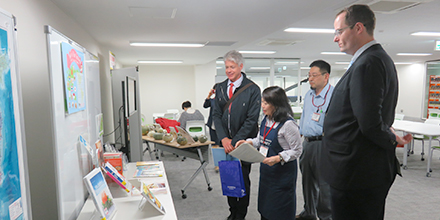 Contact:
International Exchange Division Tel: 022-217-4844