The ImPACT Tough Robotics Challenge wrapped up five years of research and innovation with a final public demonstration on November 2 at the Fukushima Robot Test Field in Minamisouma City.
The programme, which started in 2014 with the aim of making robots tougher and more effective in extreme environments, will officially finish in March, 2019. Over the years, it has brought together 62 research teams, including many members from Tohoku University. They collaborated on robots in five main working groups - aerial, serpentine, legged and construction robots, and cyber rescue canines.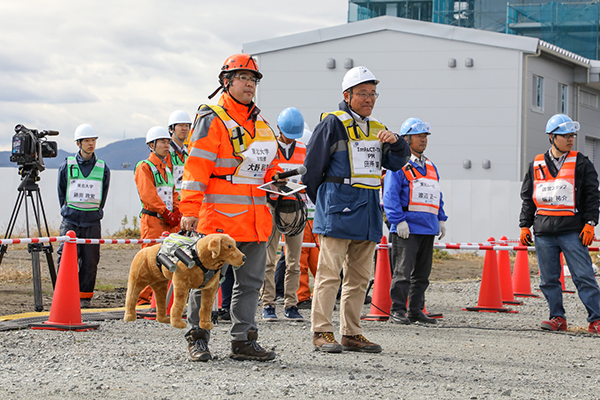 First up at the demonstration, were the rescue dogs wearing Cyber Rescue Canine suits, developed by the team led by Professor Kazunori Ohno. Each suit has a camera and IMU-GPS unit, which enable the dogs to be monitored even in remote places; and an electrocardiography device to track the dogs' condition and emotional state.
The team also unveiled two new features believed to be world firsts. One is a 3D ground shape measurement capability. "When a dog walks on rubble, we can measure the height of the rubble from the dog's trajectory," explained Ohno. "And that can be used to estimate the angles of slopes and the amount of sediment during landslides."
The other new feature is the ability of handlers to lead a dog remotely by using a spotlight attached to the suit. According to Ohno, the suits have been highly effective in regular exercises conducted with the Japan Rescue Dog Association.
One of the earliest, most recognisable serpentine robots is Professor Masashi Konyo's Active Scope Camera, which moves by vibration and can search in rubble by manoeuvering in extremely narrow gaps. It is especially useful in situations where access is difficult, such as in collapsed buildings, and in industrial facilities with complex pipes and equipment.
An earlier version was used in 2016 for structural assessment and radiation measurement at the Fukushima nuclear power plant damaged in the 2011 tsunami and earthquake.
New and improved versions include the ability to levitate around obstacles by air jet, to capture sounds through an embedded microphone, and to do 3D mapping via computer vision techniques developed by Professor Takayuki Okatani.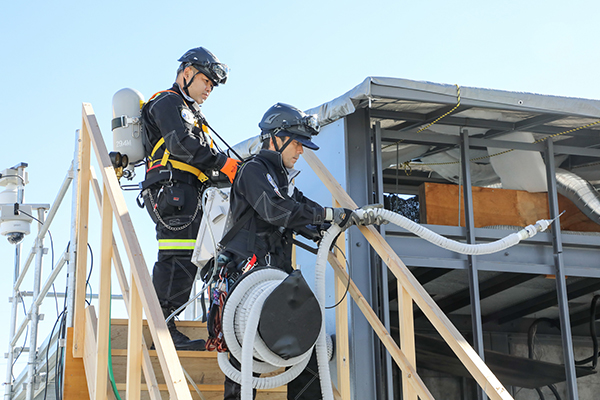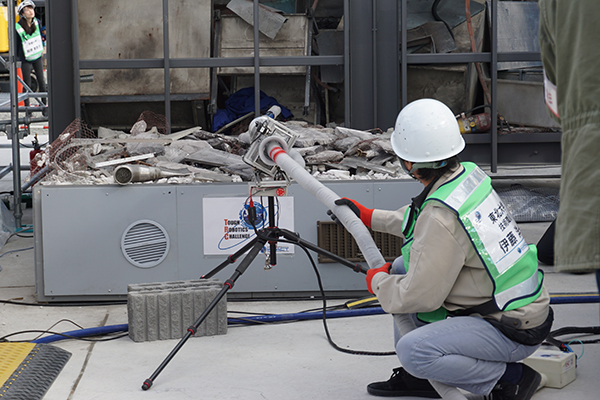 Other serpentine robots featured in November's demonstration showed high mobility in ducts, and the ability to climb in and out of pipes and up ladders without getting entangled.
The Thick Serpentine Robot has an "Omni Gripper" with a string jamming mechanism developed by Professor Kenjiro Tadakuma's team. It can grasp a variety of targets, including hot and sharp items, open tight valves and handle gadgets of all shapes, weight and sizes.
The gripper is made of a tough, metallic, fire-resistant material and contains beads that give it its flexibility. Users control the tension and stiffness of the grip by pulling on a string-like mechanism inside.
The Construction Robot, with its double-swing dual-arm mechanism, is built to remove heavy debris, as well as perform high power, high precision tasks remotely while on steep slopes and irregular terrain.
Professor Keiji Nagatani's lab worked on the attached drone, whose camera gives the robot its enhanced aerial vision for close target imaging. The tethered drone hovers autonomously and can maintain "altitude hold mode" and "position hold mode."
"General autonomous flight for a drone uses GNSS for position estimation, but position accuracy gets worse when cliffs, large trees or bridges are nearby. So our drone uses an estimation of its tether shape, and can stay in one place autonomously without GPS information," said Nagatani.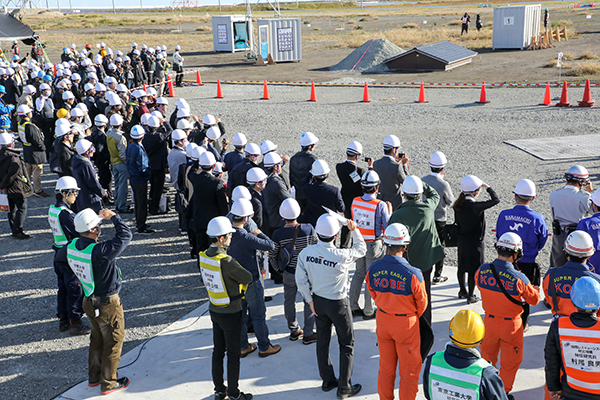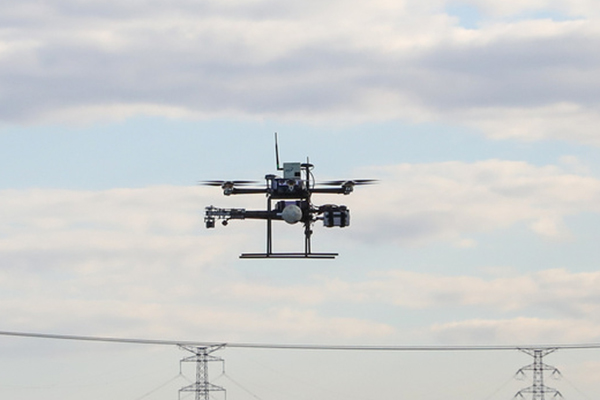 Other drones on display demonstrated successful flight under difficult conditions, such as heavy rain and strong winds. They also navigated near and around obstacles, in order to map and communicate conditions.
In July 2017, heavy rains caused the collapse of 750 houses in northern Kyushu. The ImPACT-TRC team contributed to the disaster response by using its new PF-1 drone to gather high-resolution images of inaccessible areas. Other drones have also been successful in recent rescue and recovery efforts, providing useful overview data in the aftermath of the 2016 Kumamoto earthquake.
"There's been such amazing progress in all kinds of robotics, I'm really impressed with how mature the technology has become. This programme has produced some very innovative applications," said Professor Robin R. Murphy, director of the Center for Robot-Assisted Search and Rescue, and the Center for Emergency Informatics at Texas A&M University.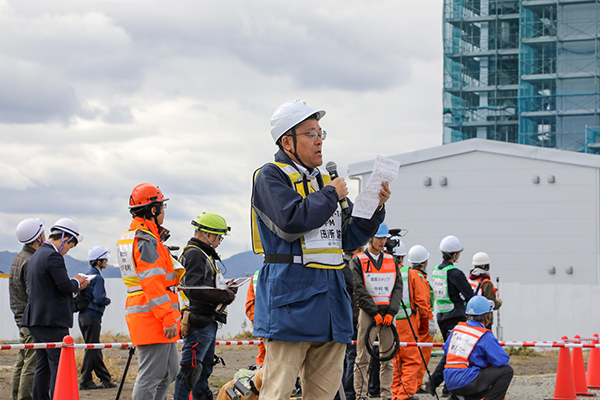 Murphy also had kind words for Tadokoro, who served as programme manager of ImPACT-TRC. "I've known Dr. Tadokoro for a long time, and a lot of this programme's success can be attributed to how hard he's worked to engage top researchers from all over Japan to really think about applications, to use the challenges to improve their fundamental research and to train a new generation of scientists."
The Tough Robotics Challenge project is part of the Japanese government's "Impulsing Paradigm Change through Disruptive Technologies Program" (ImPACT) aimed at developing remote autonomous robots that are tough enough to support humans in extreme and hostile disaster environments.
"I'm really proud that this programme brought so many talented researchers together and we managed to create several new technologies," said Tadokoro. "The next step will be social implementation and industrialization. I hope many of these robots will go on to play a big role in future search and rescue operations."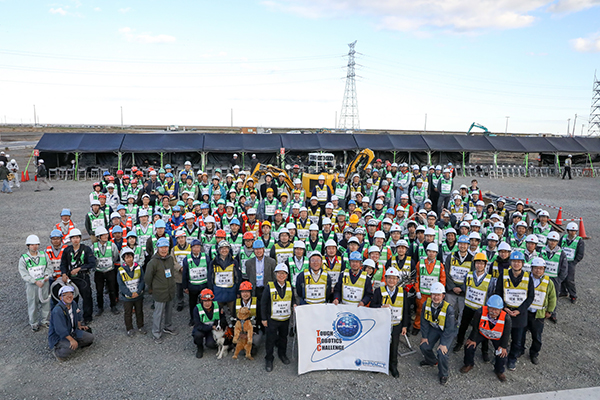 Contact:
Satoshi Tadokoro
Graduate School of Information Sciences, Tohoku University
Project Manager, ImPACT Tough Robotics Challenge
Email: tadokoro

r
m.is.tohoku.ac.jp