Prof. Tetsuo Shoji of Tohoku University's New Industry Creation Hatchery Center, has been awarded the 2015 Grandes Médailles by the Centre Français de l'Anticorrosion (CEFRACOR).
He was honoured at the 2016 General Assembly of CEFRACOR held on June 10 at Ecole Nationale Superieure de Chimie de Paris, in France.
The Grandes Médailles is given out for outstanding scientific achievement or industrial contribution in the field of corrosion. Shoji was recognised for his original scientific research on Stress Corrosion Cracking (SCC) caused by a synergy of mechanical, chemical and material characteristics.
He proposed a unique time domain analysis of environmentally assisted cracking and also the first theoretical formulation of SCC growth rate. The formulation can describe experimental facts as well as imply countermeasures for related industrial problems.
After the ceremony, Shoji gave a special lecture on "Locality and Causality in Corrosion."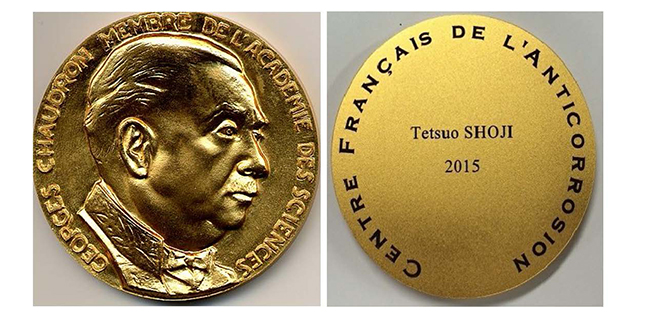 Contact:
Tetsuo Shoji
New Industry Creation Hatchery Center
Email:tshoji@fri.niche.tohoku.ac.jp