Twenty-three Tohoku University students were conferred awards this week by President Susumu Satomi, for their contributions towards promoting the university's international programmes.
At the ceremony at Hagi Hall, President Satomi spoke emphatically of the growing need for Japanese youth to think and act globally. Even if their future is in Japan, he said, it is vital to understand and be in touch with what's going on around the world.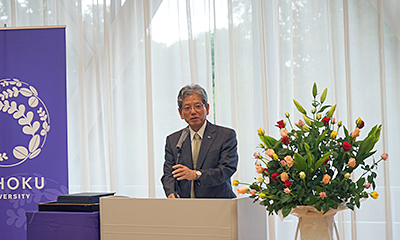 Fifteen students received the prestigious Global Hagi Scholarship, as they prepare to go on study abroad programmes at Tohoku University's partner institutions around the world. The scholarship is awarded annually to students with excellent academic records and who are deemed to be good ambassadors for the university abroad.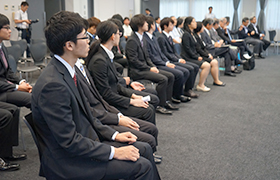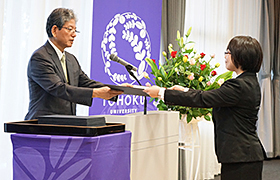 Tatsuya Inagaki, a medical engineering student, is leaving for Denmark this fall. "I'm really honoured to get this award, and I know that I have to study even harder now. I'm looking forward to learning a lot while I'm abroad."
It's a sentiment echoed by Naoya Murakami, a foreign language education policy student who is headed to Heidelberg University in Germany. He said he's happy that the scholarship offers him the chance to be in Europe. "I think everyone can benefit from a study abroad programme. It's a chance to use a foreign language and to interact with a lot of different people. It's an experience that every student should have if they can."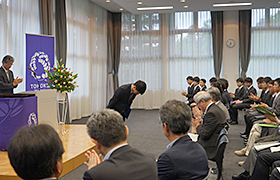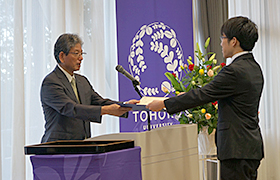 Also honoured at the ceremony were eight students who were named Global Leaders. Students receive the Tohoku University Global Leader certification after collecting sufficient points from classes and activities that encourage a global mindset. These include participating in study abroad programmes, taking international liberal arts classes and passing foreign language proficiency tests.
Masumi Abe, an English linguistics student, is one of 32 students to receive the certificate since the Tohoku University Global Leader Program was started in 2013.
"As a Japanese university student, I sometimes think about how I can help Japan in the future," said Abe. "Now I know that the answer cannot be found only in Japan, but worldwide."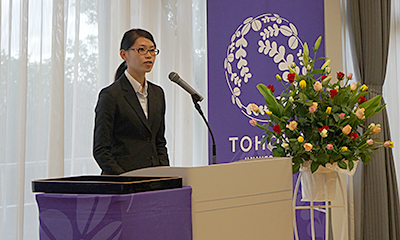 Abe had done a month-long short programme (SAP) at the University of California Riverside, and found the experience so enriching that she's planning to go back for a longer programme later this year.
"My dream eventually is to be a high school English teacher. I want my students to study English and be interested in English. And I want them to know that there is a whole world outside Japan. I want to encourage my future students to go out to see the world first, experience things, then come back. And maybe they will have a better understanding of who they are and what Japan is."
Contact:
Student Exchange Division
Tel: +81-22-795-7820
Email: sab_query@grp.tohoku.ac.jp