Tohoku University last week welcomed more than 200 international students at the 2016 Fall Semester Entrance Ceremony for the Future Global Leadership Program (FGL) and Student Exchange Programs.
In his welcome speech, Professor Kimio Hanawa, the executive vice president for education, student support and student international exchange, reiterated the university's commitment to globalization. "In recent years, we have been putting more effort than ever into promoting campus internationalization. The FGL Program and Student Exchange Programs are the prime examples."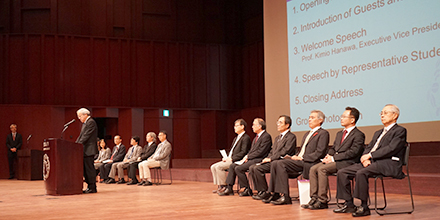 He also urged the students to embrace new experiences beyond the classroom, and to learn from each other as well as through engagement with the local community. "Cultural and intellectual exchange with Japanese students, as well as your fellow international students from all over the world, is also a part of studying at Tohoku University," he said. "I believe you will treasure the friends you make during your stay in Sendai, and I encourage you to interact and communicate as much as possible with not only Tohoku students but local residents too."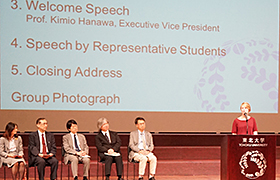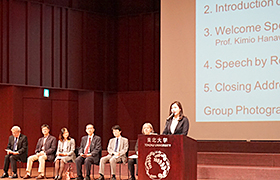 Speeches were also made by student representatives HyoJae Chung (FGL) and Ida Kristina Abrahamsson (IPLA). Both spoke of looking forward to new adventures and making "friends for a lifetime."
Tohoku University's popular exchange programs attract hundreds of students each year from partner universities around the world. The programs include the Junior Year Program in English (JYPE), International Program in Liberal Arts (IPLA), Cooperative Laboratory Study program (COLABS), Direct Enrollment Education Program for Natural Science Students (DEEP) and Direct Enrollment Education Program for Humanities and Social Science Students (DEEp-Bridge).
The Future Global Leadership program offers undergraduate courses taught in English, in the fields of Molecular Chemistry, Marine Biology and Mechanical and Aerospace Engineering.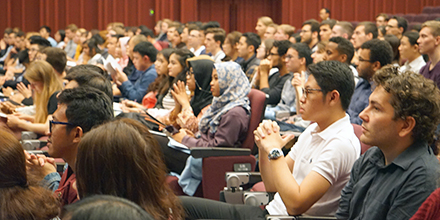 Contact:
Student Exchange Division
Email: studyab@grp.tohoku.ac.jp
Tel: +81 22 795-4816
Link: http://www.insc.tohoku.ac.jp/english/