An orientation session for more than 400 new international students was held at Kawauchi Hagi Hall. Participants included both undergraduate and graduate students starting classes this fall.
Executive Vice President Kimio Hanawa gave a brief introduction of Tohoku University. Staff and faculty members also made informative presentations on campus facilities, support services and informal ways to maximize student life in Sendai.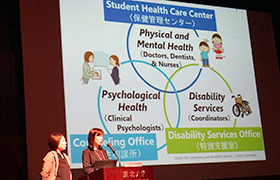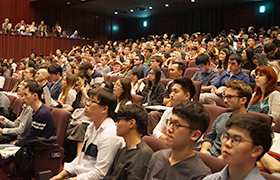 Nanae Kojima and Chiyuki Nakaoka spoke on the importance of healthcare and mental health awareness, and introduced the work they do at the Center for Counseling and Disability Services.
Minako Nakashima from the Global Learning Center highlighted the various English language resources, such as bulletin boards, this website and the university's official social media platforms.
While Kaori Shimasaki offered details of a new programme called Survival Japanese, a week-long language class aimed at postgraduate students.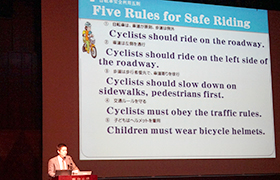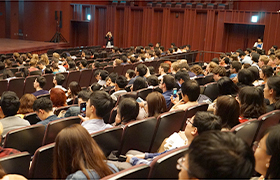 Since many students get around by bicycle, a representative from Sendai Kita Police Station was on hand to talk about the city's traffic rules and road safety, especially in winter conditions.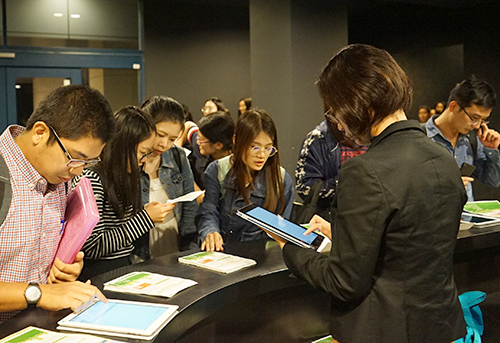 On the sidelines of the event, groups promoting campus and community outreach set up booths in the lobby.
Organisations such as the Tohoku University Foreign Students Association (TUFSA) and the Tohoku University Volunteer Support Center (SCRUM) have activities year round. While Sendai Tourism, Convention and International Association (SenTIA) and Miyagi International Association (MIA) run activities that bridge the city's local and foreign communities.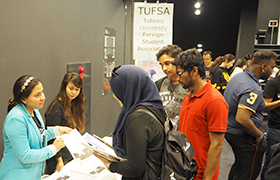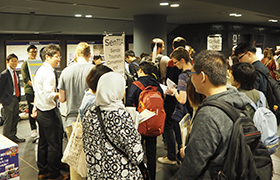 The groups reflect Tohoku University and Sendai's strong cultural diversity, and serve as a way for students to make new friends and experience a multicultural way of life.

News in Japanese
Contact:
International Support Office
Student Exchange Division
Tel: +81 22 795-3247
Email: supportoffice@grp.tohoku.ac.jp