It wasn't the perfect spring day to be outdoors - persistent rain and road closures due to the Sendai half marathon combined to give the 2017 Tohoku University International Festival an unusually slow start.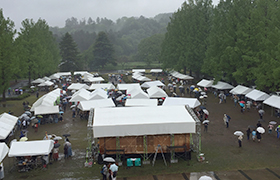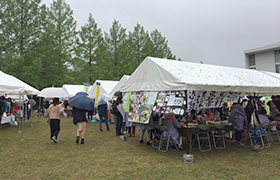 But the bad weather didn't deter some 2,000 people from stopping by, and what the crowd lacked in size this year, it made up for in enthusiasm. This annual event has, after all, always been about encouraging the city to step out of its comfort zones, try new things and learn something about itself.
To that end, the visitors enjoyed cultural performances on the stage, tried their hand at games, dances and traditional craft. There was even a secondary stage set up for easy interaction, allowing festival goers a chance to share ideas and opinions on topical issues with people from different cultural backgrounds.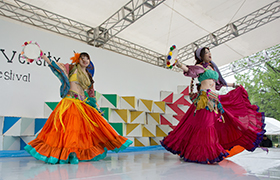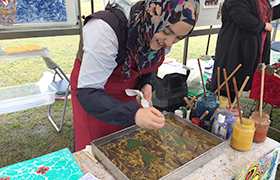 It was all rather appropriately keeping with the festival theme, "I am because you are." "The idea is that all the people we have met and the people we have yet to meet will inevitably change the kind of person we are," said Germaine Lau, a member of the TUIF organizing committee. "This festival is a way for everyone to celebrate meeting people of different cultures and backgrounds and be shaped by the experience."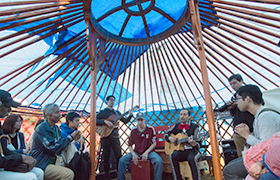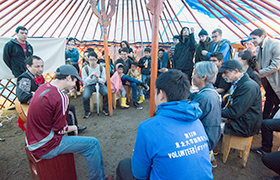 As always, the highlight of the event was the food. Some 30 stalls served delicacies from around the world, including first time participants Jordan, Egypt and Algeria. In fact, the smaller crowd made the food queues less daunting, a big advantage for some. "Every year, the popular food stalls sell out before I can try them," said one Sendai resident as she stood in line for German sausages. "Today, everything is much quicker."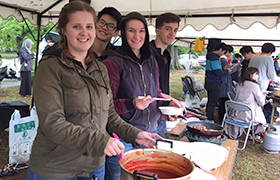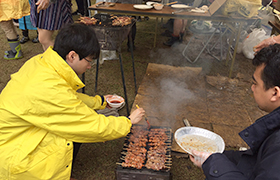 Also participating for the first time was Tohoku University President Susumu Satomi, who arrived in the afternoon and delighted the crowd with a casual walk about, chatting with students, gamely tasting proffered food and posing for photos.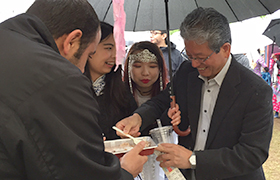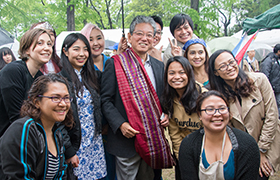 In his speech, he thanked everyone for coming out in spite of the rain, and paid tribute to the Tohoku University Foreign Students Association (TUFSA) which has successfully organised the festival for the past 32 years. "Every year, thousands of people enjoy this festival," he said. "It has strengthened the ties between Tohoku University and the city of Sendai, and between the Japanese and international communities."
TUFSA president Aniko Karparti agreed. "We want to embrace engagement with people from other cultures and promote strong, diverse communities. So this festival is a chance for everyone to interact and to create room in ourselves for more acceptance."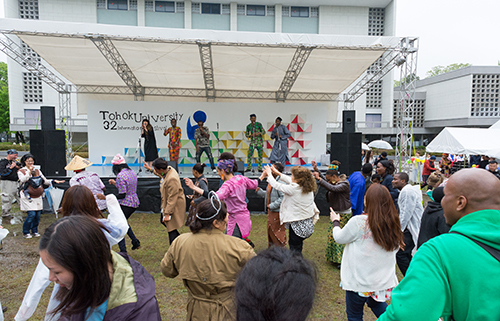 Contact:
Tohoku University Foreign Students Association (TUFSA)
Email: tufsacontact@gmail.com