Last academic year, Tohoku University launched a "Be Global" project to work around the restrictions to international exchange, and obstacles to collaborative/experiential active learning, caused by the COVID-19 pandemic.
The project established an international education support system at the Global Learning Center, that leverages the university's extensive digital capabilities and strong network of partner institutions.
An example is the Virtual Student Exchange Program (APRU VSE) launched last August by the Association of Pacific Rim Universities. It connects students from 57 leading universities through various online platforms. Tohoku University actively participates in APRU VSE's academic courses (with credit transfer) and the non-credited co-curricular programs.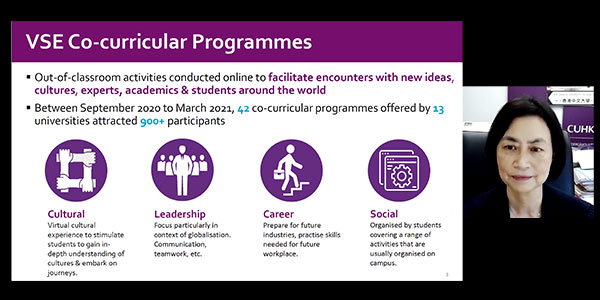 APRU held an online workshop recently titled "International Exchanges Unbound: Developing Co-curricular Programs to Support Virtual Mobility," for members to discuss their experiences hosting co-curricular activities.
A total of 42 co-curricular programs were offered between September 2020 and March 2021, attracting more than 900 student participants from across the APRU network. The programs addressed cultural immersion, global leadership, career planning and/or social engagement. Professor Suk-Ying Wong from the Chinese University of Hong Kong, said that the high number of participants not only reflected the quality of the activities offered, but also "perfectly demonstrated the desire and enthusiasm from the students to connect with their global peers in these very challenging times."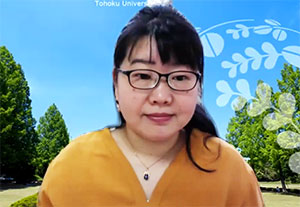 At the workshop, Tohoku University shared their experiences hosting three activities. Associate Professor Rumi Watanabe from the Global Learning Center spoke about the lecture on sake by the staff of Asashi Shuzo brewery.
The event also featured a virtual brewery tour, and a lesson on the etiquette of sake drinking.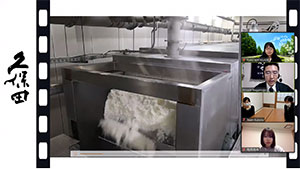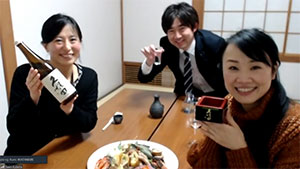 "It's a shame we did not get to taste the sake, but we had fun and the students asked many good questions," said Watanabe. "We also found that many people are interested not just in Japanese culture, but also the language. Those who are studying Japanese language were very happy to speak to our Japanese students in Japanese."
Elena Fabbretti and Kiya Okhlopkova hosted cultural classes for participants of both the APRU VSE and the Tohoku University Japanese Programme (TUJP).
Fabbretti taught a class on ukiyo-e, the influence of Japanese print in western art. She noted that good images of famous paintings and prints kept the students engaged. "We sometimes used both English and Japanese in our explanation so that the students can learn some key words in both languages," she said.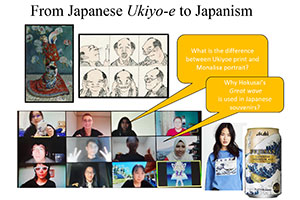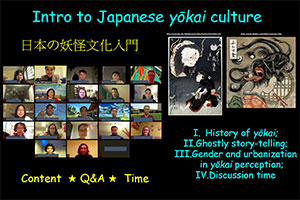 Okhlopkova's class was an introduction to yokai culture - supernatural creatures in Japanese folklore. "The students were very active," she said, "but I felt that they might have come up with more original ideas if they'd got the questions beforehand as an assignment. Then I could have asked them what they thought before the lecture and how their opinions changed afterwards."
She also shared with the class, a list of books and literature that she had used in the lecture and slides, so that students can learn more on their own if they wish to.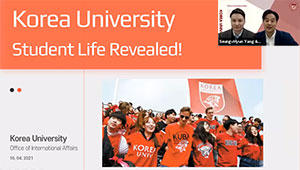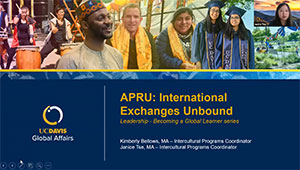 Other universities that gave presentations at the workshop included Korea University, who shared their experience blending a student-produced live broadcast with pre-recorded videos to give participants a tour of the campus and a sense of what student life is like; and UC Davis who hosted sessions on Becoming a Global Learner, with modules such as Culture and Values, Culture and Identity and Tools for Growth.
"The Tools for Growth session emphasized practical ways to suspend judgment and grow inter-culturally," said Kimberly Bellows of UC Davis' Global Learning Hub. "The impact of these sessions to me, indicates that students are looking for ways to grow, to learn about themselves and how to interact well with others."
Grace Siu, an instructor at the Hong Kong University of Science and Technology's career center, spoke of her career development sessions which helped students put together a good CV and prepare for job interviews. She said that the use of Slido enabled students to ask questions and interact comfortably. She also noted that senior student participants were sometimes able to offer advice to the younger students or undergraduates.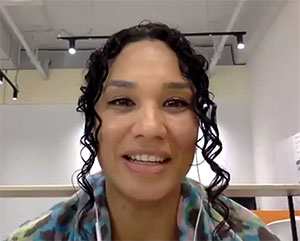 More than 100 people from APRU member institutions participated in the workshop. "Regardless of whether COVID was happening or not, this could be an entryway to thinking about international exchange for the future," said Jackie Agnello Wong, the Director of Network Programs at APRU, wrapping up the event with a summary of the main takeaways. "This could also be an avenue for those students who are not able to travel abroad, who don't have the accessibility in terms of money and support. So I think this program could be particularly valuable to many students."
Tohoku University students interested in APRU VSE programs can click on the links below.
Links:
For APRU VSE academic courses offered in summer 2021, click here.

For upcoming co-curricular programs, click here.
Contact:
Student Exchange Division
Tohoku University
Tel: +81-22-795-3745
Email: studyab

grp.tohoku.ac.jp