There are few things more synonymous with Japanese youth than a school cheer squad, or "oendan." Dressed in military-style uniform or traditional Japanese hakama, "oendan" members support their teams with a rowdy combination of taiko drums, brass instruments, massive flags and yelling. A lot of yelling.
Tohoku University's cheer squad was formed in 1963 by a group of students who wanted to support the university's sports teams at the annual National Seven Universities Athletic Games. Over the years, the squad has continued to grow and there are now more than 40 members who make up the three regular units - the cheer leaders, the pom-pom girls and the brass band.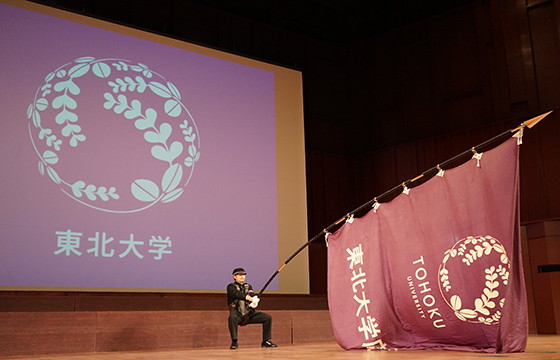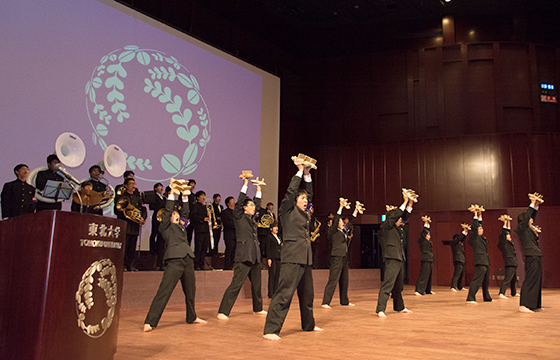 A typical performance includes a spirited song by the band, some dancing by the pom-pom girls and an intensely rigorous routine by the cheer leaders that set the tempo for the whole squad. The cheer leaders' choreographed chants serve as both encouragement and a war cry at sporting events.
Naoki Takagishi, a 3rd year science student, is the current leader of the squad. Like many of the members, he had no previous experience with cheering, but was attracted to the squad's tradition and culture. "I joined the squad because the members look really cool and manly when they cheer. There is a lot of passion in our group," he said.
Despite the entertaining nature of the performances, the cheerleading is a very serious activity. Based on the Japanese "budo," or martial arts, the squad has strict rules and members are expected to show unwavering discipline, respect, passion and endurance.
In fact, the cheer leaders have a training regiment that is as rigorous as that of the sports teams they support. In addition to practicing their cheer routines, the members regularly do physical training, running in the Aobayama mountainside, or taking on the stairs of a nearby shrine. "Sports team members are very powerful. So the cheer squad has to be powerful too," said Takagishi.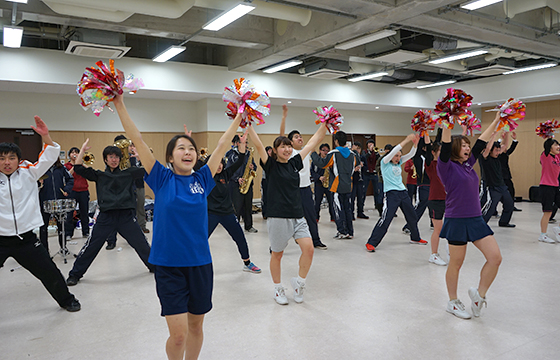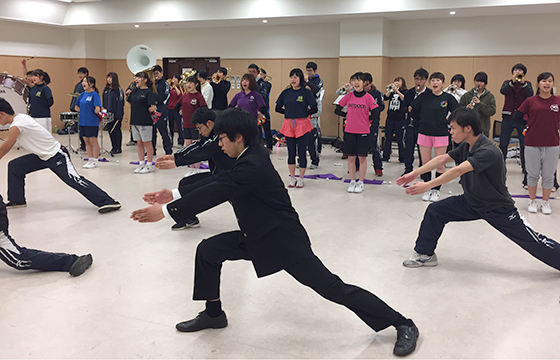 The squad has official cheering duties most weekends, and they train three other times a week - twice within their own units, and together as a squad every Tuesday.
Kanae Matsushita, a 2nd year psychology student, is one of 10 pom-pom girls in the squad. "I'm from Shizuoka and I was able to make a lot of friends through this group. It's hard work but also very satisfying because we are a team."
And this sense of unity and team spirit extends beyond the squad. "We are close to each other and we are also close to the members of our sports teams because we spend so much time together at tournaments," said Hiromu Miyamoto, a 2nd year, chemical engineering student. "Being in the cheer squad has given me the chance to make a lot of really good friends."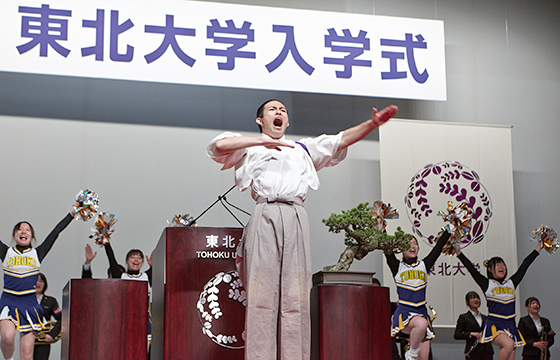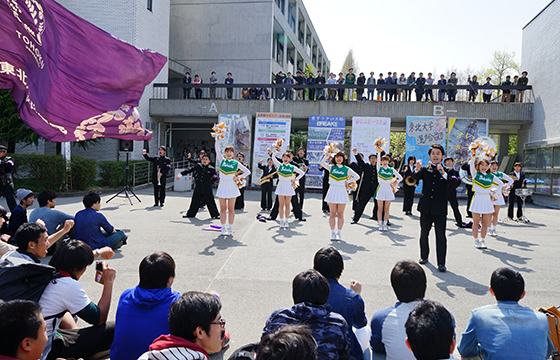 Between January and March when most sports are on hiatus, the cheer squad turns its attention to other university events such as graduation and entrance ceremonies, academic conferences and even exams.
"We just want to cheer for Tohoku University," said Takagishi. "If our support can motivate the sports teams to win, or our students to succeed, then the cheer squad feels like we have won too."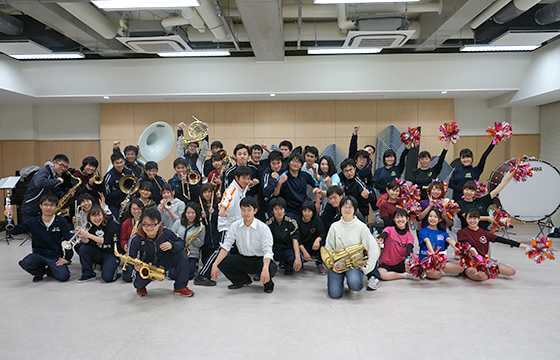 Contact:
Tohoku University Cheerleading Squad
Email: tohoku-ohendan@hotmail.co.jp