In June 2020, Tohoku University announced major reforms to its business operations, adopting a new work style to adapt to the coronavirus that was forcing students and staff to stay home. Leveraging its strength in AI and information technology, the university first moved its classes online, upgraded its connectivity, Wi-Fi services and expanded its subscription of online tools.
Then it adopted flexible working styles and remote work, to allow administrative services to continue online without disruption. The willingness and ability to adapt to new and changing circumstances reflected a progressive strategy.
Japanese bureaucracy - known for its strict, inflexible traditional approach to office life - got a much needed update at Tohoku University.
Declaration of Online Administrative Services
Almost a decade after the 2011 Great East Japan Earthquake, Tohoku University found itself grappling with another disaster - the coronavirus pandemic.
"One of the biggest lessons we learnt from 2011, was the importance of having resilient communications infrastructure - not just for personal security, but also to ensure that essential services can continue during a disaster," said Sho Kawakami, a project leader at the university's Office for the Promotion of Digital Transformation.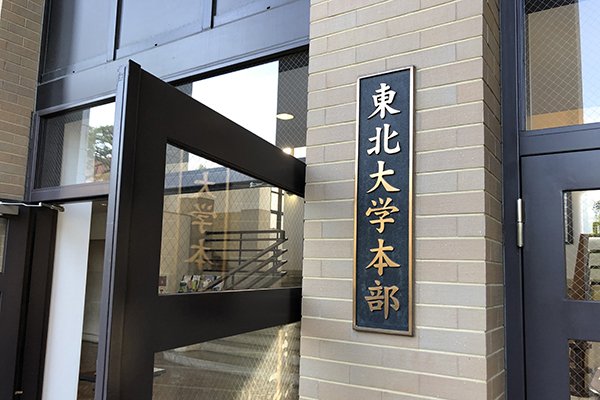 "When the pandemic hit, we had no idea how long it would last. But because we had reinforced the fundamental structure of our IT system in 2016, we felt confident that the business side of the university could continue smoothly through the pandemic."
In the summer of 2020 - while COVID-19 was wreaking havoc around the world - the university started to shift its business environment to the cloud, utilizing online services, data and software that would provide students and staff with more personal and direct services without in-person contact.
It also became the first national university in Japan to abolish the traditional "hanko" or seal system which, in turn, improved operational efficiency.
Most significantly, the university introduced the option of flexible hours and remote-work through a VPN (virtual private network) system that gives staff access to resources and meetings, regardless of where they are working from.
"We feel that it is important to recognize the diverse lifestyles of our staff, and to help them balance work, personal needs and family responsibilities," said Takafumi Aoki, Tohoku University's Provost and Chief Digital Officer. "In the long run, we hope this flexibility will lead to less overtime and an improvement in everyone's mental and physical health."
From Digital to Social Transformation
What started as a COVID-19 countermeasure in 2020, has evolved into an important strategy forward for Tohoku University.
Classroom technology that was once set up to help students learn safely at home, is now being used to provide the best of both worlds on campus - a combination of in-person learning and limitless online resources. Hybrid classrooms are also increasingly common, allowing students on campus, at home and even in other countries, to interact in a virtual environment.

The university has been using Google Workspace for Education since 2019, but has now increased its digital programmes and assets to include Zoom, all applications in the Microsoft 365 package and fully customizable RPA options, among others.
Digitalization has also become a major internationalization tool.
Foreign employees have the capability to connect with the office while abroad; and visiting researchers can remain connected to home while in Sendai. And by establishing a system where on-campus equipment can be accessed remotely, the university has enabled researchers to conduct measurements and analyses from anywhere in the world. This has not only reduced travel expenses, but also some 1,000 hours of equipment down-time annually. Shared projects and highly-cited publications have increased as a result.

In the administrative offices, the DX team built a virtual desktop environment on the cloud, using Google Drive instead of existing on-campus servers. With Google Drive's large storage capacity making information and file sharing easier, the university hopes that the amount of paper used for printing would be reduced. Furthermore, without the need for large server rooms that generate a lot of heat, indoor temperature regulation and power consumption can also be reduced, which is in line with the university's Green Goals Initiative to contribute towards the United Nations' Sustainable Development Goals.
All this is made possible by a 56-member team led by Kazuyuki Fujimoto, deputy director of the Office for the Promotion of Digital Transformation. "There is no stopping the acceleration of digitization. It is important to be willing to explore and utilize new methods, rather than being afraid of change."
Students and staff who would like to know more about the digital tools that are available, can visit the official website.
Links:
Contact:
Makiko Muto
DX Promotion Team
Email: dx-promo

grp.tohoku.ac.jp