Tohoku University recently hosted a Global Initiative Seminar in collaboration with the Intercultural Education Society of Japan, aimed at addressing the benefits of cross-cultural co-learning.
Titled "Designing an environment for mutual learning between international and domestic students," the event attracted some 200 professionals from academic institutions across the country.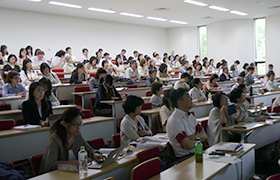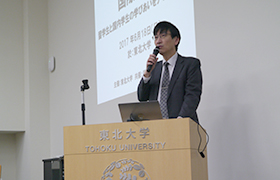 Tohoku University's Executive Vice President Toshiya Ueki gave an opening speech highlighting the increasing importance of a global mindset among today's youth. "The world is becoming smaller and more interdependent. To understand other cultures beyond our borders, to cultivate broad knowledge and to have the ability and attitude to effect change for the better...these are the goals that all academic institutions should be heading towards."
For its part, the Ministry of Education, Culture, Sports, Science and Technology (MEXT) - the governing body for education in Japan - has announced plans to attract 300,000 international students by 2020. It also hopes to double the number of Japanese students studying abroad to 120,000 (or 3.4 percent) in that same period.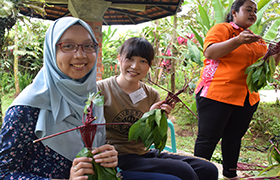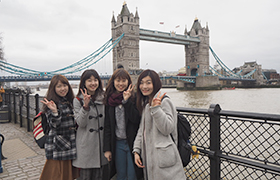 But despite universities stepping up the number and range of exchange programmes offered, uptake among Japanese students continues to lag. Contributing factors include fears of missing the strict employment recruitment cycle which begins in a student's final year of university and concerns about security and terror attacks abroad.
The solution? Universities should be looking at internationalising the curriculum at home, according to experts. Specifically, universities can add an international dimension to the domestic curriculum by introducing a global perspective into the syllabus across subject fields, encouraging ideas from different cultures and incorporating teaching methods from different countries.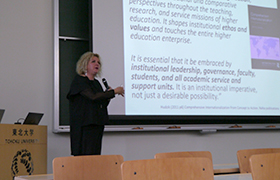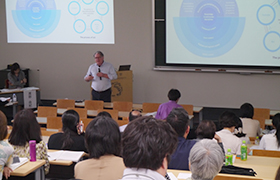 "The first thing we need to do is change the mindset that studying abroad is like the gold standard because that's not necessarily true," said Elspeth Jones, emerita professor at Leeds Beckett University. As a strong proponent of the internationalisation of higher education, Jones was a guest speaker at the symposium. "Even if the MEXT target of 3.4 percent is met, that's still 96.6 percent of students who are not likely to travel, and they are the ones we need to think about helping."
Craig Whitsed, a senior lecturer at Australia's Murdoch University, who was also a speaker, agrees. "Traveling is not for everyone, and it doesn't mean that if you don't travel, you can't have an international education. Take, for example, a classroom of Japanese university students studying to be Japanese teachers in Japan. That sounds like a very domestic scenario, but you could incorporate into the syllabus different pedagogies from around the world, explore how teaching is delivered differently in different parts of the world, try different methods of interaction, encourage interest and engagement of issues that other students around the world are also discussing. When you've achieved that, you've got yourself an international curriculum."
Both Whitsed and Jones were also quick to stress that it is just as critical for teachers and staff to be on board with the changes.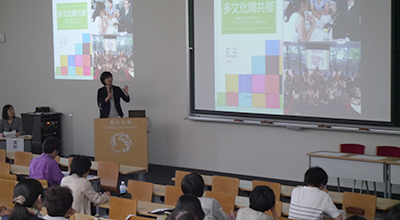 "Foreign teachers are often not properly integrated or used to help internationalise the university. In the same way there are Japanese staff who have studied and got their degrees abroad but are valued here only for their subject knowledge," said Jones. "We need to think about the cultural experiences and valuable alternative insights that such staff can bring to the classroom."
In other words, the mindset change has to be deliberate and holistic. Ideally, it should also begin in the early formative years of a child's education.
"Children in primary school have no problem interacting with other children regardless of their background, race, religion, language. They all just get out there and play, and somehow find a way to relate to each other," said Whitsed. "Once they get to high school and university, they start to separate into groups. So really, we should be looking at developing the right mindset from the early years in school."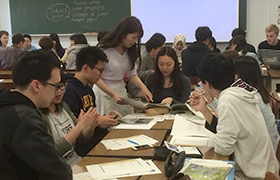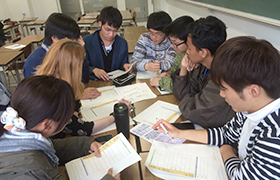 Tohoku University is a member of the government's Top Global University Project, and plays a leading role in the internationalisation of higher education in Japan. It also offers the largest numbers of co-learning classes among the country's national universities.
"I think there are many people in academia who still think that international education is something that only intercultural educators like us do, mainly as part of a general education curriculum," said Kazuko Suematsu, deputy director of the Global Learning Center. "That is obviously not true. International perspectives can and should be integrated into every subject.
"We have been placing our emphasis on sending students out, but this seminar has brought home the point that in order for the next generation of Japanese to be competitive, we cannot overlook the majority of students who decide not to go abroad. Internationalising our curriculum is going to be a focus moving forward, and this seminar was a good start."
Contact:
Yukako Yonezawa
Office for International Initiatives, Tohoku University
Tel: +81 22 217 5020
Email: yukako.yonezawa.a7@tohoku.ac.jp