Twenty contestants took part in this year's Falling Walls Lab Sendai, which was held online on August 28, from the TOKYO ELECTRON House of Creativity on Katahira Campus.
Xinyi Yang, of Tohoku University, won first prize for her presentation "Breaking the Wall of Abandoned Mine Wastewater." She described how the toxic chemicals found in mine wastewater threaten communities and how the current method of treating the water is not ideal.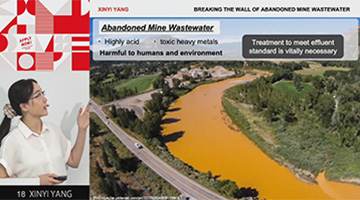 "Chemical precipitation by calcium hydroxide is the most frequently used method, but the high water content sludge that is generated requires an enormous amount of energy and high cost to manage," Yang said, adding that there is a growing shortage of disposal sites around the world.
Her solution is to use layered double hydroxide (LDH). "LDH is capable of removing cations and anions because of its electrical characteristic and structure, so it is very suitable for mine wastewater treatment," she said. "Treatment using LDH also reduces sludge volume considerably, so this could cut energy consumption and managing costs to a large degree."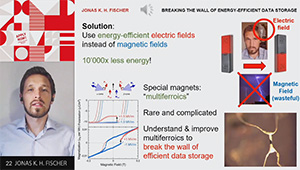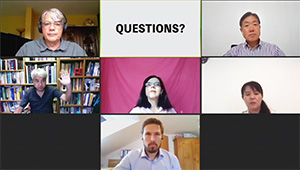 Jonas K.H. Fischer, from the University of Tokyo, came in second with "Breaking the Wall of Energy Efficient Data Storage."
He said that the growing number of smart devices that we use has led to a greater need for IT servers and electricity. "If we can control the little magnets in our data storage devices with electric fields instead of magnetic fields, we could be 10,000 times more efficient, and need 10,000 times less energy."
However, he said, electric fields can only control a special kind of magnet, called multiferroics. "We are trying to control the magnetism with electric fields, understand these materials better and work towards their application in the computers and IT devices of the future."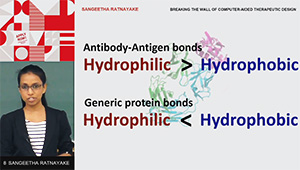 Hokkaido University's Sangeetha Ratnayake took third for her topic, "Breaking the Wall of Computer-Aided Therapeutic Design."
Computer simulation techniques currently used to assess antibody-antigen interactions might not be accurate, she said, because the scoring function was originally intended for generic proteins. "The fact that we've established that antibody-antigen bonds are somewhat different from generic proteins, will allow us to explore - and ultimately improve - the accuracy of medical diagnostics, to treat diseases from simple allergies, to complex immune deficiencies and cancer."
All three winners will receive their trophy and winning certificate in the mail.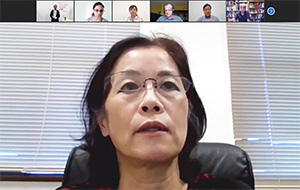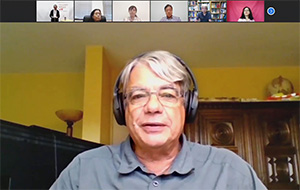 Wrapping up the event, Tohoku University's Executive Vice President for Research, Motoko Kotani, said the judging panel was impressed with the participants, not just for their ideas but also the clear and engaging way the ideas were presented. "There was a very wide scope and it was very international," she said. "Everyone was really good. If you were not selected as one of the three winners, you should still be proud of yourself."
Professor Jean-Yves Cavaille of INSA-Lyon, who was also on the judging panel, said that this experience will give students the confidence to present their research clearly and concisely, even to people outside their field, at symposiums and at job interviews. "This was a very tough, difficult and demanding exercise, but the skill and expertise you gained will be very useful."
Falling Walls Lab is an international competition based in Berlin and started in 2011 to encourage innovative solutions to contemporary problems. Contestants pitch their initiatives in three minute presentations, and field questions from the jury. Contestants are judged on the "breakthrough factor" of their research, the social relevance of their work and the persuasiveness of the presentation.
Falling Walls Lab Sendai, as a regional qualifying event, is held every year and attracts contestants from all scientific disciplines in Japan. Yang will join the winners of other international qualifiers for the main Falling Walls Lab Final on November 8 - 9.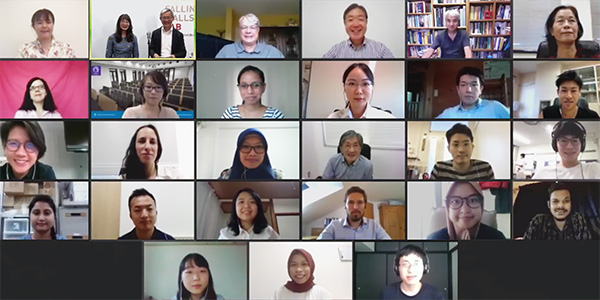 Contact:
Falling Walls Lab Sendai Administration
Tohoku University
Tel: +81 22 217-6091
Email: fwls

grp.tohoku.ac.jp