The G7 Science and Technology Ministerial Meeting was held in Sendai from May 12 - 14.
Led by Japan's Minister of State for Science and Technology Sanae Takaichi, the ministers from Canada, France, Germany, Italy, the United Kingdom and the United States, along with the European Union, discussed international cooperation in scientific research and development as a means to solve global issues.
Tohoku University hosted several lectures and tours over the weekend that showcased a cross-section of its science and technology initiatives.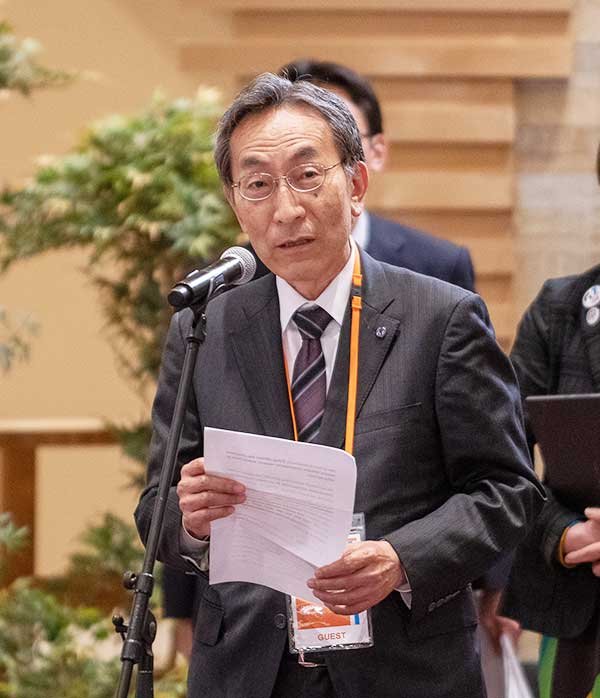 In his welcome speech to the ministers on May 12, Tohoku University President Hideo Ohno spoke of the groundbreaking work at the International Research Institute of Disaster Science (IRIDeS); as well as the huge potential of NanoTerasu, the next-generation synchrotron radiation facility on the new extension of Aobayama campus.
NanoTerasu, he said, "will be instrumental in advancing materials science toward carbon neutrality and life sciences, among many other things."
President Ohno also touched on the university's myriad multidisciplinary research activities that offer opportunities for the co-creation of societal values with stakeholders from around the world. "I hope that this G7 Science and Technology Ministers' meeting in Sendai promotes open science, research security and integrity along with Data Free Flow with Trust (DFFT) as essential components for enhancing the value and trustworthiness of the research we all conduct."
On May 13, the G7 ministers got a first-hand look at some of the areas along the coast still recovering from the Great East Japan Earthquake. They visited Arahama Elementary School, where more than 300 students and local residents took shelter on the roof when the tsunami engulfed the town on March 11, 2011.
The group then attended an information session at IRIDeS, to learn about the latest research and technology for disaster risk reduction.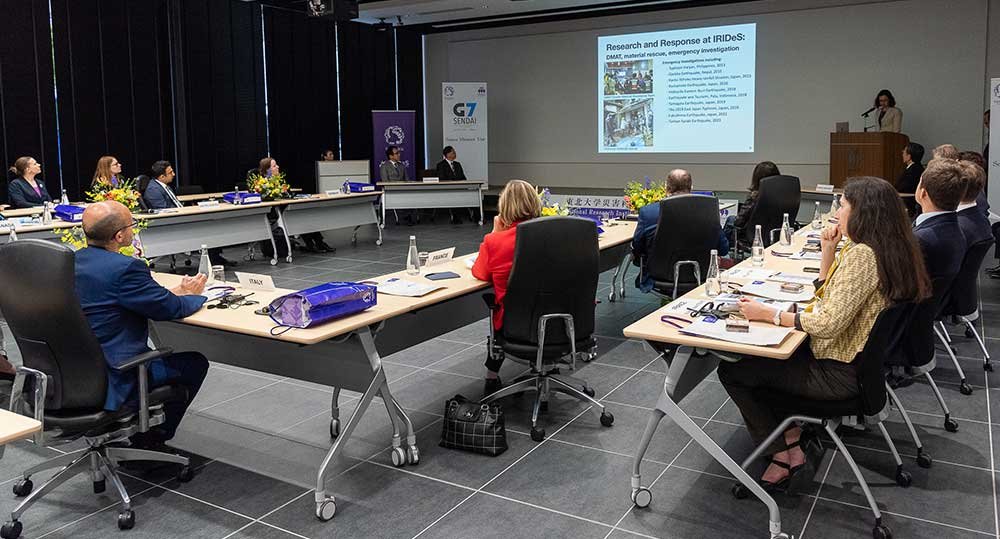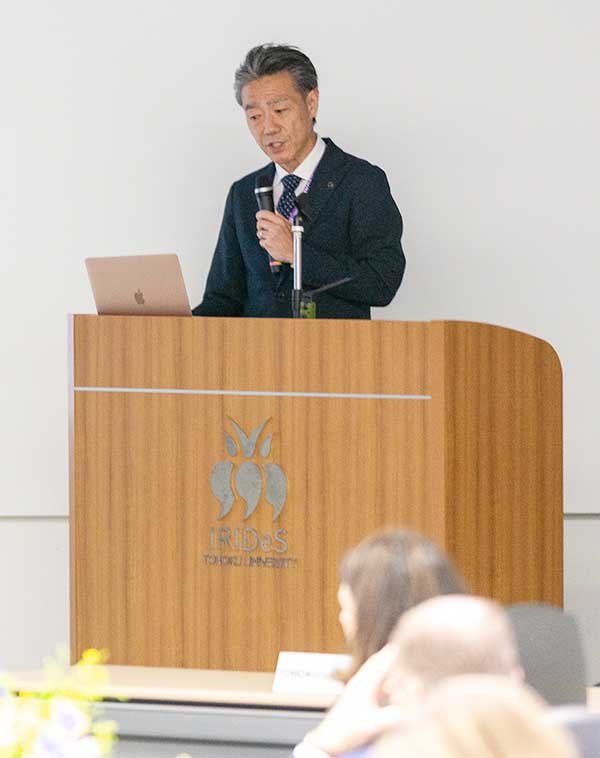 Associate Professor Liz Maly gave an overview of IRIDeS' history and mission in response to the Great East Japan Earthquake, and shared examples of the institute's multidisciplinary research, including practical applications to society across various phases of disaster and response.
She also highlighted a few of IRIDeS' international activities, such as involvement in the UN World Conference on Disaster Risk Reduction, the World Bosai Forum, the APRU Multi-hazards summer school, ArcDR3 and the UN World Tsunami Awareness Day.
A few researchers then shared further details of their work, including IRIDeS Deputy Director Shunichi Koshimura, who spoke of a disaster prevention system known as "Disaster Digital Twin and Smart Resilience." He described fusing real-time numerical modelling and geo-informatics to create a real-time tsunami inundation estimation system.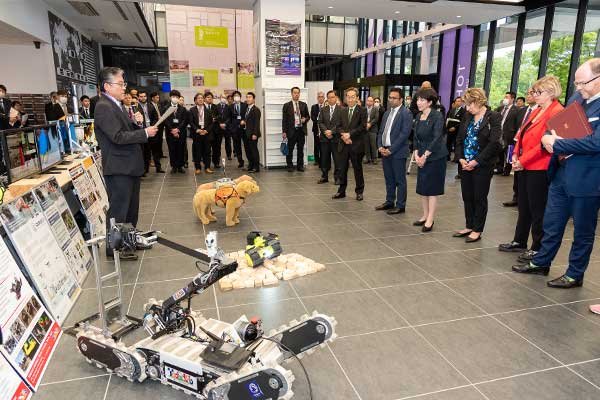 In the exhibition space, Professor Satoshi Tadokoro demonstrated the latest in disaster response robotics.
Among the robots on display were Quince, which was used in the Fukushima-Daiichi nuclear reactor building following the accident in 2011; Dragon Firefighter, the world's first flying hose that can replace human responders in skyscraper fires; Cyber Rescue Canine suits, which have cameras and IMU-GPS units to monitor the movements of rescue dogs in remote places; and Resilient Soft Hands, which can handle and manipulate dangerously sharp and hot objects.
Currently, Tadokoro's team is working on SMURF through an EU-Japan collaboration called Project CURSOR. SMURFs can be dropped onto rubble to search in debris using advanced VOC sensors. "We are studying advanced, tough robotics technology for mitigating disasters," said Tadokoro in his presentation. "In order to promote the research, international collaboration based on governmental agreements is necessary, so I ask for all your support."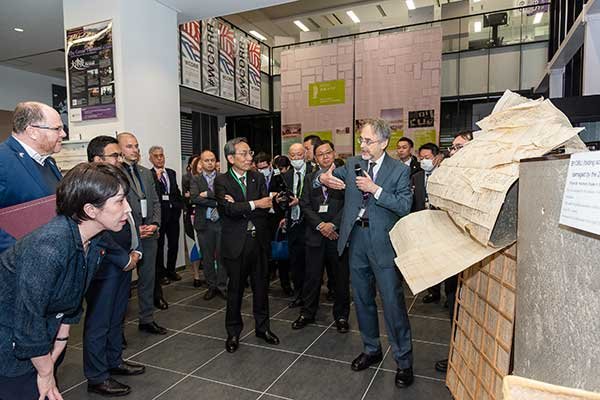 Associate Professor Yuichi Ebina and Visiting Professor John Morris spoke of how history guides disaster science. Historical data, they explained, can prove vital in disaster prevention research, and historical documents help to preserve cultural heritage.
The information session ended with a brief message from the new director of IRIDeS, Shinichi Kuriyama, who reiterated the institute's commitment to "share the knowledge and data we have collected on various disasters, so that together we can reduce disaster risks worldwide."
On May 14, the G7 ministers were given a tour of NanoTerasu, which is scheduled to begin operations next year.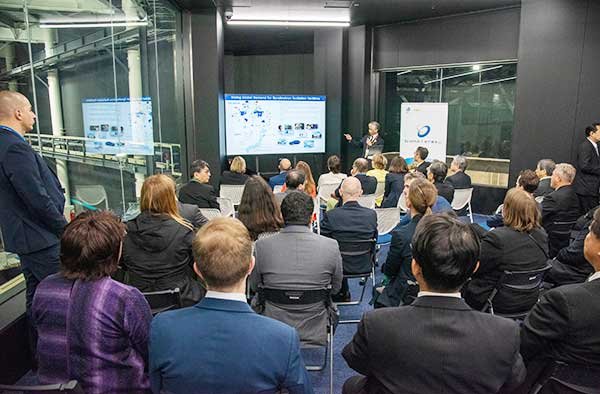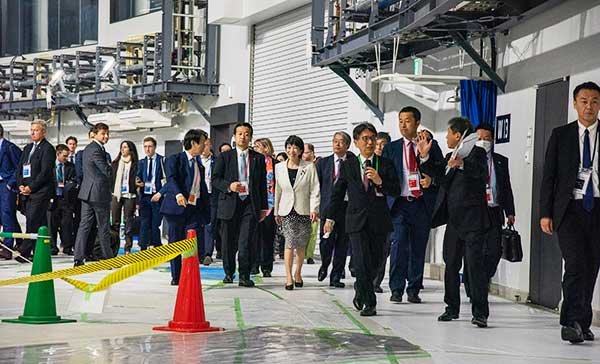 President of the Photon Science Innovation Center Masaki Takada introduced the facility, which comprises a giant microscope capable of making nanoscale observations, and other unique features that are expected to attract international experts from academia and industry when operational.
This was followed by a high-level meeting on "Quantum Innovation for a Better Future," where stakeholders from government, industry and academia discussed accelerating the global implementation of quantum technologies.
With digital transformation, technological advances and facilities like NanoTerasu generating huge volumes of previously inaccessible data, emerging technologies such as quantum computing, are seen as valuable tools that can use the data to develop solutions to global issues.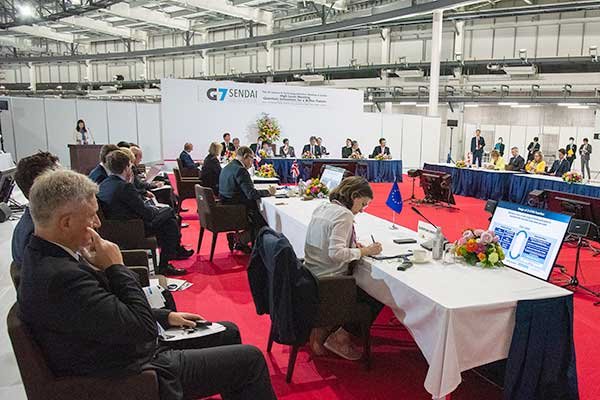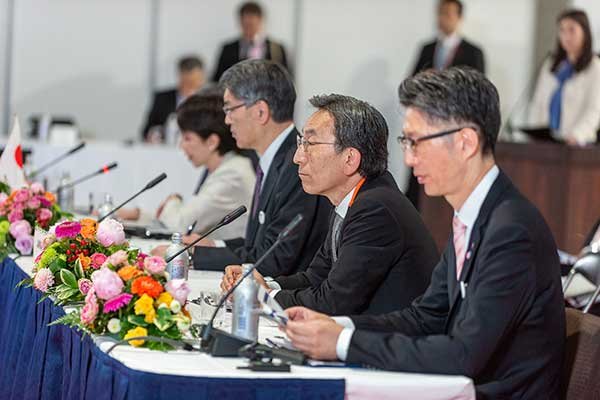 The three-day ministerial meeting ended with the release of a joint communique, in which the ministers agreed on, among other things, the importance of open science, which makes scientific research and its dissemination accessible to everyone.
"This is so that researchers and people throughout the world can benefit from them as well as contribute to the creation of new knowledge, stimulation of innovation, democratization of access to knowledge by society and the development of solutions for global challenges."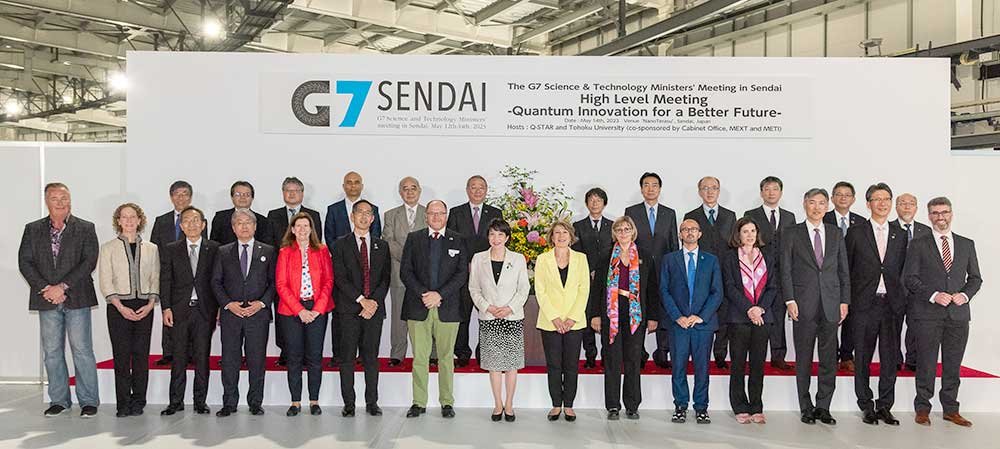 Contact:
Tohoku University International PR Section
Tel: +81-22-217-4816
Email: public_relations

grp.tohoku.ac.jp
International Research Institute of Disaster Science (IRIDeS)
Public Relations Office
Email: koho-office

irides.tohoku.ac.jp