When engineering student Hiroshi Saito studied at Tohoku University in the early 1960s, he commuted to the Mikamine campus in Taihaku. On its doorstep was a park famous for its sakura trees, where Saito says he was mesmerised by the beauty of the cherry blossoms.
Fifty-five years later, in gratitude for the support he received as a student, Saito has gifted Tohoku University with 159 cherry blossom saplings to add colour to the new extension at Aobayama Campus. These were planted at a ceremony on March 28.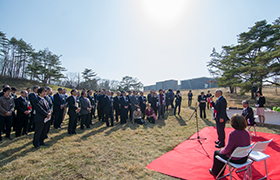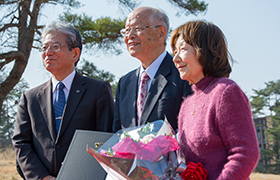 A member of the Tohoku University Rowing Club, Saito went to Rome to represent Japan at the 1960 Olympics. While the team broke the 6 minute wall for the 2000 metre race, they missed out on qualifying for the final by a narrow margin.
"Thanks to the support I received, I was able to devote myself to rowing. The experiences I gained back then have helped shape me into the person I am today," said Saito.
Not only was life as a student rich with opportunities for personal growth, but he also met his future wife Kazuko who was studying at Tohoku University's School of Medicine. The couple joined President Susumu Satomi, international students and some 120 others in planting the cherry blossom trees near the new student dormitories, currently under construction.
"I'll be very happy if in five or ten years' time the trees blossom and this place becomes known as a spot for cherry blossom viewing," said Saito.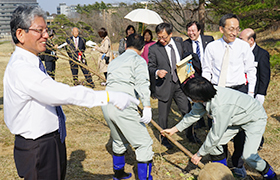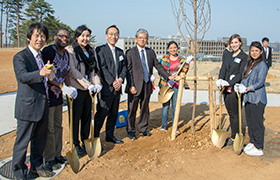 President of the Tohoku University Foreign Students Association (TUFSA), Aniko Karpati, enjoyed being able to help beautify the new campus area.
"It's a very nice gesture of Mr. Saito to give back to the university and invest in a new generation of students," she said. "I joined TUFSA because I was so well looked after by senior students when I arrived here and I wanted to give back."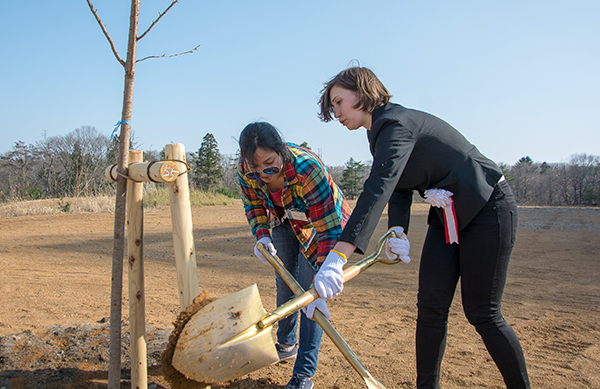 The student dormitories are due for completion in October and will accommodate 752 students.
Irina Garcia studies at the Graduate School of Engineering at Aobayama Campus. "I think many students will want to live here," said Garcia. "Because we have a strict schedule, we have to be at the lab early and work until late. Students won't have to worry about the commute because they will already be here."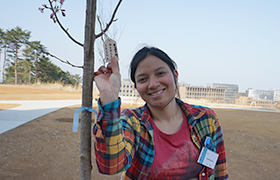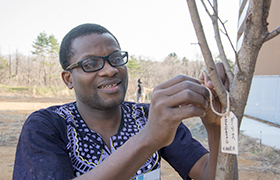 The cherry blossoms were planted along paths leading down to Aobayama Commons. Just a stone's throw from there, is a newly opened restaurant and cafeteria.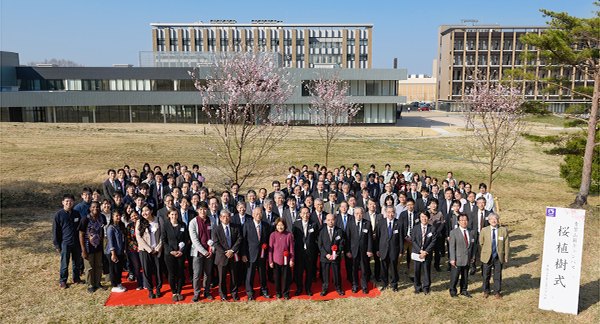 News in Japanese
Contact:
External Relations Division
Tohoku University
E-mail: social@grp.tohoku.ac.jp